Crew
Robert Kirkman - Executive Producer / Writer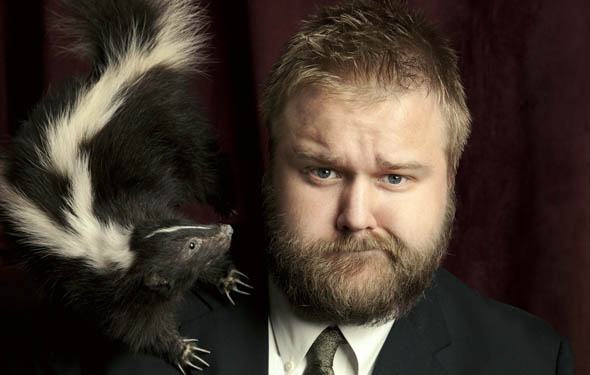 Robert Kirkman is the creator/writer of the best-selling The Walking Dead comic books and graphic novels and Executive Producer/Writer of AMC's hit television show The Walking Dead. Before The Walking Dead was a pop culture sensation, it was already a successful comic book and just one of many comics that Kirkman has created for his Skybound imprint and publisher Image Comics over the past ten years. Kirkman started the year celebrating the 100th issue of his super hero comic Invincible. He is also the creator/writer of the all-ages Super Dinosaur and created Thief of Thieves, which is in development with AMC.
Robert Kirkman's work as a writer, creator and advocate for creator's rights has led him to win the Eisner Award, the Inkpot Award, the Saturn Awards' first-ever Innovator Award, and Spike TV's Game Changers Award. The 100th issue of The Walking Dead became the best-selling initial order of any comic book in this century.
Born in Lexington, Kentucky, Robert's imagination was stoked by cartoons, movies and comics from an early age.
Battle Pope, a religious superhero satire, was his first title accepted by Diamond Comics Distributors, Inc. Its humble beginning was a turning point in Kirkman's career. In 2000, he met his hero, Erik Larsen, and convinced him to allow Savage Dragon to guest star in an issue of Battle Pope. From there, things quickly fell into place. He joined forces with artist Cory Walker to pitch Science Dog to Image Comics, and Larsen invited both to write and draw his Savage Dragon spin-off, SuperPatriot. Soon after, Image agreed to publish Tech Jacket, a title Kirkman created with artist E.J. Su. In 2003, he created Invincible with Cory Walker, followed soon after by The Walking Dead. Kirkman's milestone survival horror series, with artist Charlie Adlard, has led to best-selling video games from Skybound's partnership with Telltale Games, Skybound's own The Walking Dead: Assault iOS game, merchandising, toys, action figures, events, spinoff novels and www.TheWalkingDead.com.
AMC picked up The Walking Dead as a television series in 2009 before the pilot was even shot. The record ratings for its October 2010 premiere led to an instant second-season pickup. Kirkman relocated to Los Angeles so he could be an active voice in the writer's room for Season 2. His Skybound imprint now publishes many titles beyond his own, including David Schulner's Clone, which is in development as a series by NBC with Kirkman as an executive producer. Kirkman also created and will write/executive produce an exorcism-based comic book series and television series in development with Fox International Channels, the international distributor of The Walking Dead TV show.
Kirkman created and owns some of the most popular characters in modern comics and is one of the driving forces behind Image Comics, which he helped reinvigorate as one of the company's partners. Kirkman is now developing the next generation of creator-owned comics through Skybound and is becoming a steadily growing voice in the world of television.
Read an interview with Robert Kirkman for Season 1 »
Read an interview with Robert Kirkman for Season 2 »
Read an interview with Robert Kirkman for Season 3 »
Read an interview with Robert Kirkman for Season 4 »
Read an interview with Robert Kirkman for Season 5 »