Crew
Greg Nicotero - Executive Producer/Special Effects Make-Up Designer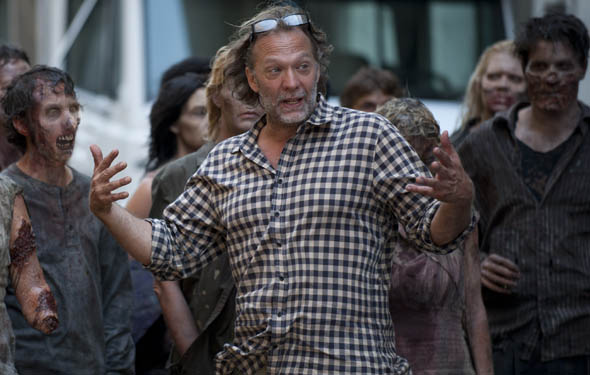 Greg Nicotero is executive producer, director and special effects makeup Designer on the hit AMC show The Walking Dead.
His vision for creature and character design can be seen in such TV shows and movies as Django Unchained, Sin City: A Dame to Kill For, Machete Kills, Breaking Bad, Kill Bill, Predators, Transformers, Land of the Dead, and Army of Darkness, among others.
His groundbreaking work on The Walking Dead has earned him and his team back-to-back Emmy wins for Best Prosthetic Makeup, along with nominations for visual effects for both The Walking Dead and Breaking Bad. Greg has written and directed several installments of a web series based on The Walking Dead that have won numerous awards, including WGA Award for Outstanding Achievement in Writing Derivative New Media two years in a row. He has directed episodes in Seasons 2, 3 and 4 for the popular zombie show while running his makeup effects company, The KNB EFX Group (KNB) since 1988 he has contributed special makeup and creature effects to more than 700 projects, from Sin City, Inglourious Basterds, This Is the End, Dances with Wolves, The Amazing Spider-Man, The Grey and Pulp Fiction, to The Green Mile, The Book of Eli and Piranha.
Read an interview with Greg Nicotero for Season 1 »
Read an interview with Greg Nicotero for Season 2 »
Read an interview with Greg Nicotero for Season 3 »
Read an interview with Greg Nicotero for Season 4 »
Read an interview with Greg Nicotero for Season 5 »