Cast Members
Sarah Wayne Callies as Lori Grimes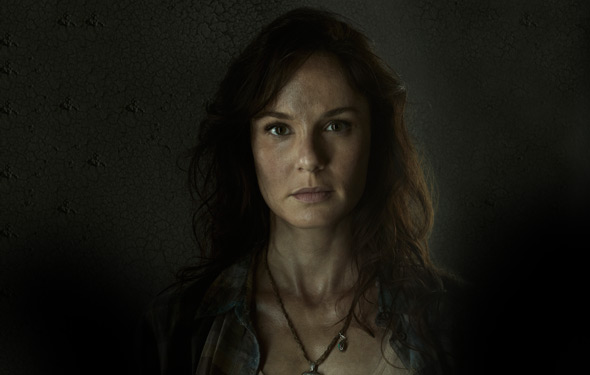 Sarah Wayne Callies has made an indelible impression on television audiences by portraying strong, independent women in adverse circumstances. Currently Callies stars as Lori Grimes in AMC's The Walking Dead. Her character is the emotional center of the story as she seeks to protect her family.
Callies is also currently filming an untitled project in Detroit with Final Destination 5 director Steven Quayle. The film tells the story of a group of high school students documenting the events and aftermath of a devastating tornado. The film is scheduled for a 2013 release.
From 2005 to 2009, Callies starred in the hit Fox television drama Prison Break, as Dr. Sara Tancredi, a prison doctor and the love interest of the protagonist and prisoner, Michael Scofield, played by Wentworth Miller. The show aired four seasons and in 2006, won a People's Choice Award for Favorite New Television Drama and that same year was nominated for a Golden Globe Award for Best Dramatic Television Series.
Prior to Prison Break, Callies had multiple recurring roles such as Kate O'Malley on the CBS series Queens Supreme, which aired from 2003-2005, and as Jane in the Warner Brothers series Tarzan from producer Laura Ziskin. In addition, Callies starred in and co-produced CBC pilot Tangled.
In 2011, Callies starred in the independent feature film Foreverland, where she stars opposite Juliette Lewis. The drama is centered on a dying man with cystic fibrosis who goes in search of a healing shrine in Mexico with the sister of his fallen friend.
In 2010, Callies starred opposite Rupert Friend and Forest Whitaker in Lullaby for Pi, a film about a washed-up musician who befriends a reclusive artist with an unusual name. This film gave Callies the opportunity to highlight her passion for music by contributing to the soundtrack, writing and performing an original song for the film.
In 2006, she made her feature film debut as the female lead in the adaptation of James Redfield's international, best-selling novel, The Celestine Prophecy. In this mystical adventure film, which chronicled the discovery of ancient scrolls in the rainforests of Peru, Callies starred alongside Annabeth Gish, Hector Elizondo and Jurgen Prochnow.
Further contributing to her list of achievements, Callies most recently sold her first feature screenplay, Elena's Serenade, to producer Cameron Lamb and The Film Farm. Adapted from Campbell Geeslin's award-winning children's book, Elena's Serenade centers on a girl who crosses the Mexican desert to become a glass blower.
Callies was born in Illinois to two college professors and spent most of her childhood in Honolulu, Hawaii. Throughout her youth, she expressed her interest in acting by participating in numerous plays at the independent Punahou School. In 2002, she earned a Master of Fine Arts in classical acting from the National Theatre Conservatory in Denver. During her time there, Callies appeared in several stage productions with the Denver Center Theatre Company. Callies received a Bachelor of Arts in Drama from Dartmouth College with a minor in Women's Studies and a Senior Fellowship in Indigenous Theology.
In 2002, Callies became affiliated with the International Rescue Committee, (IRC) which helps to raise awareness about the humanitarian needs of refugees worldwide. They offer life-saving care and life changing assistance to refugees forced to flee from war or disaster. As the granddaughter of a refugee, this is a cause very close to her heart. This past summer (2011), Callies was named an IRC "Voice" for the organization.
Callies currently resides in British Columbia, Canada.
Read an interview with Sarah Wayne Callies for Season 1 »
Read an interview with Sarah Wayne Callies for Season 2 »
Read an interview with Sarah Wayne Callies for Season 3 »