Characters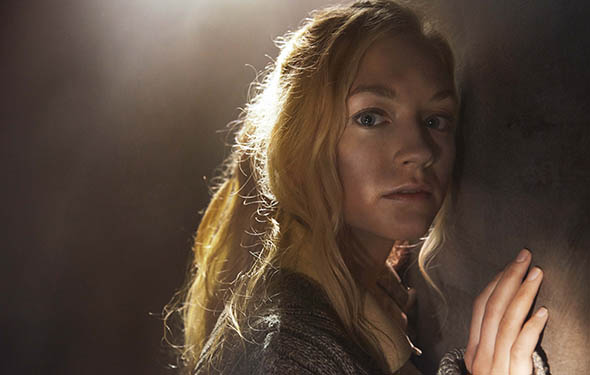 Beth was living with her father Hershel, sister Maggie and boyfriend Jimmy at Hershel's farm when Rick's group arrived.
Until then, Beth had been relatively shielded from the apocalyptic world. But when Shane breaks open Hershel's barn and she's forced to face her mother's death and horrific reanimation, she's driven nearly to suicide.
Over time, she grew more self-assured and became a contributing member of Rick's group. She remained close with her father and sister and, with their relative closeness in age, became friendlier with Carl as well.
Beth is a source of optimism and hope for the group, often singing to help boost morale. When Hershel's leg is amputated after a walker bite, Beth chides Maggie for being pessimistic about his chances of survival. Beth devotes much of her time to assisting Hershel throughout his recovery, and also becomes a capable caretaker for Judith after Lori's death. When Carol remarks how good she is with the baby, Beth smiles. "I always wanted a child," she says.
Beth eventually begins a relationship with Zach, one of the newcomers at the prison. When he's killed in a walker attack, she quietly accepts his fate. "I don't cry anymore," she tells Daryl. "I'm just glad I got to know him." She shares this newfound stoicism with Maggie when a deadly virus spreads at the prison, infecting Glenn, and endangering Hershel, who goes into the sick ward to help. "We don't get to be upset," Beth says. "We all got jobs to do."
During the Governor's attack on the prison, Beth and Maggie watch in horror as Hershel is decapitated during the battle, then the sisters are separated and Beth flees with Daryl.
Beth and Daryl wander through the woods, foraging and fleeing walkers, until Beth resolves on an objective: to have her first drink. Daryl brings her to a cabin with a moonshine still. The two get drunk and Daryl angrily accuses her of treating everything like a game.
Afterwards, the two talk tipsily on the cabin porch. Beth shares her vision of her father living a full life and Maggie and Glenn having a baby. "That's how unbelievably stupid I am," she says. "That's how it's supposed to be," Daryl reassures her. At the end of the night, Beth suggests they burn down the cabin in a cathartic move.
Beth and Daryl eventually find their way to a well-kept funeral home. Daryl implies that he has feelings for her, but before Beth can respond, walkers swarm the house. Beth runs outside, where she's kidnapped by people driving a car with a white cross painted on the rear windshield. Daryl chases after the car, but is unable to catch up.