Cast Members
Ian McKellen as Two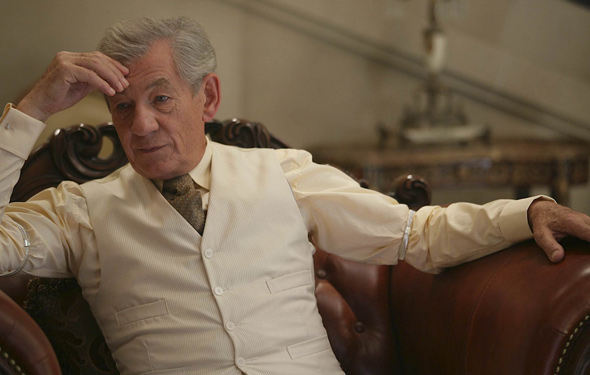 Ian McKellen was born May 25, 1939 in Burnley, Lancashire, but spent most of his early life in Wigan. Having developed a growing passion for theater, he eventually obtained his Bachelor of Arts in 1961 and began working in the field over the next few years. From 1965 to 1979, McKellen starred in a number of theater productions including Dr. Faustus with the Royal Shakespeare Company, and The Winter's Tale, Romeo and Juliet, and Macbeth -- all at Stratford-upon-Avon and The Young Vic, London. In 1969, McKellen also starred in the films The Promise, Alfred the Great and A Touch of Love. In 1979, McKellen was made a Commander of the Order of the British Empire (CBE).
In 1981, he won a Tony® Award for Best Actor in a Play for his performance in Amadeus, where he played the role of Salieri. McKellen also won an Olivier Award and London Evening Standard Award for Best Actor in 1984 for his part in Coriolanus and a revival of Wild Honey. He then proceeded to appear in The Cherry Orchard, The Duchess of Malfi and The Real Inspector Hound all at The National Theatre in 1985. That same year, he also starred in the films Plenty and Zina.
In the years 1989 through 1992, McKellen was featured in the British drama, Scandal, achieved the London Evening Standard Award for his role as Iago in Shakespeare's Othello with the Royal Shakespeare Company at London and Stratford-upon-Avon, and the Olivier Award for his performance in the title role in Richard III at The National Theatre. Both awards were for Best Actor.
In 1990, McKellen was knighted by Queen Elizabeth for his efforts in the Arts. A few years later in 1993, he landed a supporting role in the film adaptation of Six Degrees of Separation. He was later nominated for Best Performance by an Actor in a Leading Role by BAFTA in the title role in Richard III (1995), a film he also co-wrote and co-produced. His critically-acclaimed performance also earned him Golden Globe® and BAFTA nominations, and won the European Film Awards for Best Actor and The Evening Standard British Film Award for Best Film. His work led him to a broader North American audience with performances in Cold Comfort Farm (1995), and his television performance in Rasputin: Dark Servant of Destiny (1996), which garnered him an Emmy® nomination and a Golden Globe Award for Best Supporting Actor in a Series, Mini-Series or Motion Picture for Television. In 1998 he starred in both Apt Pupil (1998) and Gods and Monsters (1998), the latter of which also earned him Academy Award and Golden Globe nominations.
Next, McKellen was cast as Eric Lehnsherr / Magneto in X-Men (2000) and later X-Men 2 (2003). Following this success, he landed the role of Gandalf in The Lord of The Rings (2001), and its subsequent sequels, for which he won the Screen Actors Guild® Award for Outstanding Performance by a Male Actor in a Supporting Role and a Saturn Award for Best Supporting Actor. He was also nominated for various honors for this role, including an Empire Award, Academy Award and a BAFTA Award. In 2002, The Lord of the Rings: The Two Towers (2002) won the Online Film Critics Society Award and Phoenix Film Critics Society Award for the Best Ensemble. A year later in 2003, Lord of the Rings: The Return of the King (2003) won a National Board of Review Award for Best Acting by an Ensemble and the Screen Actors Guild Award for Outstanding Performance by the Cast in a Motion Picture.
More recently, he has been involved in voicing the role of Zebedee in The Magic Roundabout (2005). He then briefly went back to the stage and starred in The Cut (2006) playing a civil servant at the Donmar Warehouse. Soon after, McKellen enjoyed huge success on screen with The Da Vinci Code (2006), where he starred as Sir Leigh Teabing, aiding colleague Tom Hanks in his attempt to unravel a worldwide conspiracy involving the Catholic Church. McKellen also starred vocally in Flushed Away (2006), for which he won an Annie Award for Best Voice Acting in an Animated Feature Production for his performance as The Toad. He also lent his voice to Stardust (2007) and The Golden Compass (2007).
In 2008, McKellen was cast as the main role in the Royal Shakespeare Company's production of King Lear. His latest stage performance saw him take the role of Estragon in The Royal Haymarket's Waiting for Godot alongside Patrick Stewart. The production opened in April 2009 and ran for twelve amazingly successful weeks.
Read an interview with Ian McKellen on The Prisoner »
Read Ian McKellen's Production Diary »
Watch a video interview of Ian McKellen conducted by co-star Jamie Campbell Bower »
Rank Ian McKellen's Greatest Movies »