Characters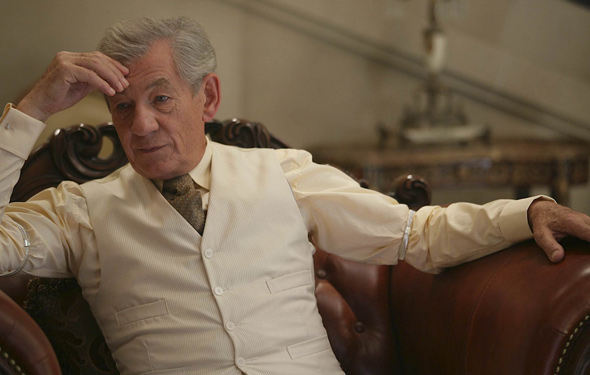 WARNING: Contains spoilers for Episodes 1-6
Mr. Curtis is the former head of Summakor. His wife Helen also worked at Summakor. They have no children.
In The Village, Mr. Curtis is known as Two, the one-time leader and Six's primary adversary whose mission is to break Six's will to escape. First, he sets out to convince Six that he has roots in The Village – specifically, a brother named 16. Two also tries to make Six fall in love with a blind Villager, 4-15, by using Gene Symmetry Therapy.
Eventually, his own personality splits into a second part (Untwo) intended to entrap Six's own alter-ego (2x6) in The Village. None of these strategies prove effective.
Two also establishes a network of spies in The Village called "undercovers," who are tasked with rooting out people that dream of an outside world. Through his spies, Two learns that his son, 11-12, is having an illicit affair with 909 -- an undercover himself.
Ironically, Two is under surveillance as well. He discovers a roach-cam in his garden while spending time with his wife M2, the sleeping woman who he had awakened with a black pill from the locked cabinet.
Afterwards, Two offers his son the key to M2's pill cabinet. 11-12 seizes the opportunity, then kills his mother before committing suicide. The awakening and subsequent death of M2 causes holes that lead to nothingness throughout The Village.
Meanwhile in New York, Mr.. Curtis introduces Michael to his heavily sedated wife Helen (M2 in The Village). Mr. Curtis explains The Village exists in Helen's mind. It's all part of an experiment to cure broken people and give them better lives.
At 11-12's funeral, Two admits to The Villagers that they're all prisoners, and tells Six the only way to repair the holes is to find a replacement for M2. 313 volunteers. "Six, I give you The Village," Two says, placing a grenade in his own mouth and pulling the pin.
In New York, Mr. Curtis arrives home to find Helen fully awake. "Don't look back," Mr. Curtis instructs as they dance together in the living room.
Click here to contribute your favorite Two quote »
"There is no way out. There is only in."

Episode 1: "Arrival"
"It does not matter if I believe. All that matters is that Six believes."

Episode 2: "Harmony"
"The louder a man shouts, the more profusely he's wrong."

Episode 3: "Anvil"
"We always save the best lies for ourselves."

Episode 4: "Darling"
"Love is a torment, or it is not love."

Episode 4: "Darling"
"I am a man with no number." (As Un-Two)

Episode 5: "Schizoid"
"That is the great gift of Village Death: clarity of choice."

Episode 6: "Checkmate"
"Let me give you the very secret of life. Breathe in: Breathe out: More Village."

Episode 6: "Checkmate"