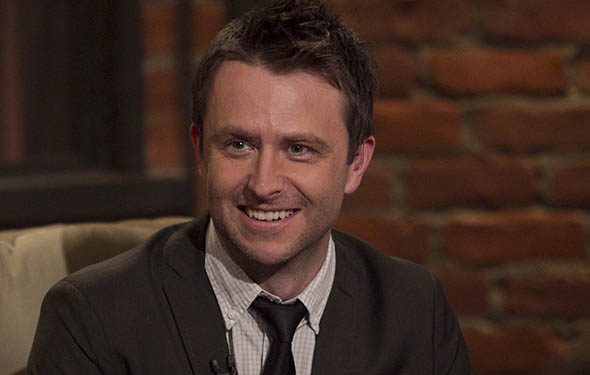 About the Show
Talking Bad is a weekly, half-hour live after-show and companion piece for AMC's Emmy Award-winning series, Breaking Bad. Hosted by Chris Hardwick, Talking Bad will analyze and examine every detail of Breaking Bad's final eight episodes beginning Sun., Aug. 11 at 11/10c, and is produced by Michael Davies' Embassy Row in association with Sony Pictures Television.
Talking Bad features Hardwick spending time with fans, actors, producers and television enthusiasts, recapping the most recent Breaking Bad episode, and taking questions and comments from viewers. Fans may continue to engage with the after-show following the on-air conclusion, online, at amc.com for more videos, weekly polls and photo galleries of the guests featured on the series.
On Sun., Aug. 11 at 9/8c, Breaking Bad kicks-off its final eight episodes. From acclaimed writer, producer, director Vince Gilligan, the series is produced by Sony Pictures Television with Mark Johnson (Gran Via) and Michelle MacLaren serving as executive producers. Breaking Bad has garnered seven Primetime Emmy Award wins and a Peabody, and been named to the American Film Institute's (AFI) list of the "Top 10 Programs of the Year" (2008, 2010, 2011, 2012). Recently, Breaking Bad received 13 nominations -- the most in the series' history -- for the 2013 Emmys. The explosive series that The Hollywood Reporter called "one of the greatest dramas in TV history," returned to AMC for the first part of its final season on Jul. 15, 2012 with its most watched episode to date with 2.9 million viewers (up 14% over the season four premiere). Breaking Bad stars three-time Emmy Award-winner Bryan Cranston; two-time Emmy winner Aaron Paul; Anna Gunn; Dean Norris; Betsy Brandt; RJ Mitte and Bob Odenkirk.
Following Breaking Bad is the premiere of AMC's newest original series, Low Winter Sun at 10/9c. Throughout Low Winter Sun, the network will air interstitials about the upcoming episode of Talking Bad, which will culminate at 11/10x with the live premiere. Starring Mark Strong (Tinker, Tailor, Soldier Spy, Zero Dark Thirty) and Lennie James (The Walking Dead, Jericho, Snatch), Low Winter Sun is a contemporary story of murder, deception, revenge and corruption in a world where the line between cops and criminals is blurred. The series is a co-production from Endemol Studios and AMC Studios. Chris Mundy (Criminal Minds, Cold Case) serves as Executive Producer and Writer.