Characters
Joan Koplan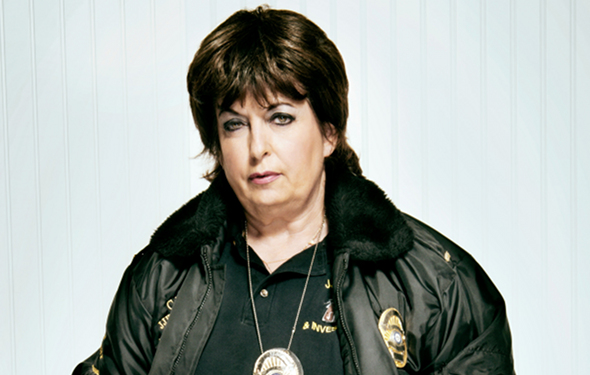 Joan Koplan is the center of gravity at JJK Security, which she established in 1984. She is a state trainee and firearms instructor; a police academy graduate; and a licensed private investigator. She is also a boss unlike any other seen on television. She barks orders, meddles in other people's business, and revels in scatological humor. Her conversation is invariably studded with profanity, sarcastic quips and sexual innuendo. She is wildly and hilariously inappropriate, and she is worshipped by her team.
"I don't think that I ever really grew up," Joan remarks. "It may sound stupid, but I still feel like I'm 17 years old. I have the same feelings towards sex and music and dancing that I had then."
Growing up in New Jersey with inattentive parents, Joan had few friends and felt out of place. She reached a turning point in 1962. "Shelly Fabares came out with the song 'Johnny Angel,' and I started singing it. That's when I knew I wanted to be a star," she says. After her mother died, Joan moved in with her father and stepmother in Manhattan's Gramercy Park. It did not go well. As Joan tells it, "I was almost 17, absolutely gorgeous and my stepmother thought I was kind of wild. She was so high-strung. She'd sit down at the big baby grand piano, drink a glass of Chablis and then all of a sudden start singing, 'Herman, I love you. Joan, I hate you!'"
So Joan moved in with her grandmother in Miami Beach, where she caught the eye of Morris Landsberg, a hotel owner with mob connections. She began dating Landsberg, along with various New York Mafia types. After ten months, the excitement had worn off and she was ready to decamp. She thought of Irwin Koplan, a Georgia salesman she'd dated when she was living in Gramercy Park. "Irwin had asked me to marry him a week after he met me," she explains. "So I called him up and said, 'Do you still want to marry me?' He said, 'Of course I do.' That night he packed his bags, drove down to Miami Beach and picked up my grandmother and me. He took us back to Georgia and we started making plans to get married. I think that was real nice of him."
Joan and Irwin will celebrate their 44th anniversary in 2013. "Irwin's got a big nose now. I tell him all the time, I didn't marry him with a big nose. I wouldn't have married a man with a big nose," she declares.
Decades after she first dreamed of stardom, Joan retains her appetite for attention and fame. And she's fully confident in her personal magnetism and talent. "I knew all these years that I was something. I'm very, very funny. I'm a terrific actress. I know that sounds weird to hear somebody say, because it sounds like they're really an ass. But that's what I know about myself. I think if more people were honest in saying what they felt about themselves, it would be a better world."
Read an interview with Joan Koplan for Season 1 »
Read an interview with Joan Koplan for Season 2 »
Discuss Joan Koplan on the AMC Talk Forum »