Characters
Dennis Starr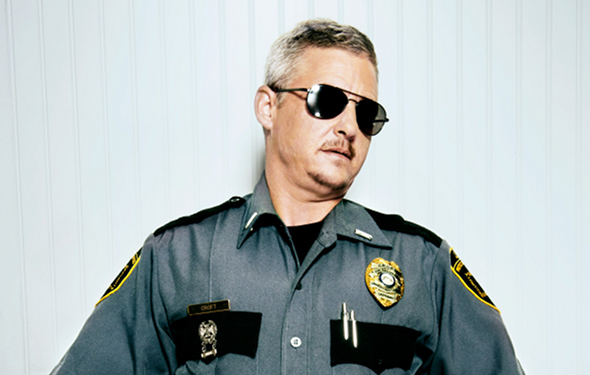 One of JJK's most senior employees, Lt. Dennis Starr supervises the company's security guards, among other duties. His goal is to build JJK as an "elite" security force providing exceptional service to clientele and public alike. He describes Chief Joan as his first love, though he has come to accept that their relationship will always be platonic.
Born into a military family, Dennis spent most of his childhood on Air Force bases in California and North Carolina. As a young adult, he served in the Air Force for some ten years, including a year-and-a-half stint of active duty and an eight year tour as Air Force Reservist. He was still in the Air Force Reserves when he decided to look for work in the security business. He'd always had an affinity for law enforcement, but a combination of age -- he was 32 -- and temperament led him to pursue security over police work. In the summer of 2000, he interviewed for a job at JJK and was filling out paperwork when Joan Koplan came in the room. "I couldn't take my eyes off her. I was 32 at the time and she looked no older than I was. When they finally told me the rate of pay, it was not what I was looking for. I considered not taking the job, but as I kept observing this woman, I couldn't not take the job. I was totally enthralled with Chief and decided I had to get to know her."
In the premiere episode of Small Town Security, it was revealed that Dennis had arrived at JJK as Denise Croft and had since begun the process of gender reassignment. Over the course of the season, people reached out to him via the Internet, resulting in several online friendships. As pleased as he is to have a larger social circle, Dennis doesn't see himself as a role model or spokesman for the transgender community. "The way I look at it, I'm representing myself, not a group. But at the same time, I understand that exposing my journey may help others," he says. "For me, it's about being who you are and having the strength and the courage to do that. Oftentimes, people like me will give up and live a lie, basically. And their life doesn't have to be like that. This world has room for us."
He's never felt the need to conceal his true self from his co-workers at JJK. His primary relationship, of course, is with Chief. "We treat each other wonderfully, but at the same time, we can be pretty shitty to each other. Because Chief and I know each other so well, we can push each other's buttons really fast," Dennis explains. Asked if JJK feels like a family, his answer is quick. "Oh yes. It does. Which can be a bad thing -- it's kind of hard to fire your family. But it can be a good thing, too -- I'm not fired yet!"
Read an interview with Dennis Starr for Season 1 »
Read an interview with Dennis Starr for Season 2 »
Read an interview with Dennis Starr for Season 3 »
Discuss Dennis Starr on the AMC Talk Forum »