Crew
Matthew Weiner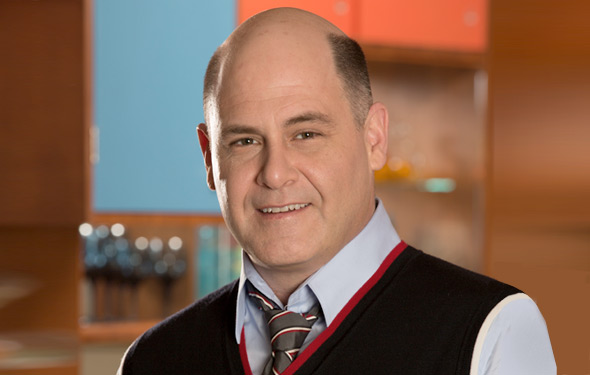 Matthew Weiner is the series creator and executive producer of the critically drama Mad Men, currently in its sixth season on AMC. One of television's most honored series, Mad Men joined an elite group in 2011 when it became only the fourth drama to be awarded four consecutive Emmy Awards for Outstanding Drama Series. Additional honors for the series includes; three consecutive Golden Globe Awards for Best Television Drama Series; a Peabody Award; three Producers Guild Awards; four Writers Guild Awards; two BAFTA Awards; the 2008 Royal Television Society Award for International Program; five Television Critics Association Awards, including Program of the Year; and being named five years running to AFI's Top 10 Outstanding Television Programs.
Since the series premiere in 2007, Weiner has been nominated for a total of 11 Emmys for Outstanding Writing for a Drama Series. He won the award for the series pilot, as well as for the second season episode, "Meditations in an Emergency" which he wrote with Kater Gordon, and for the third season episode, "Shut the Door. Have a Seat." which he wrote with Erin Levy. Most recently, Weiner won the WGA award for Best Episodic for the season five episode, "The Other Woman," which he co-wrote with Semi Chellas. Additionally, he received Directors Guild nominations for his efforts behind the camera on "Meditations in an Emergency" in season two, and again for the season three finale, "Shut the Door. Have a Seat." In 2012 Weiner was awarded the Brandon Tartikoff Legacy Award which is given annually to television professionals who exhibit extraordinary passion, leadership, independence and vision in the process of creating television programming.
This past Spring, Weiner directed the film You Are Here, which he also wrote, starring Zach Galifianakis, Amy Poehler and Owen Wilson, and which is currently in post-production for a 2013 release. Prior to Mad Men, Weiner served as an executive producer and writer on The Sopranos, and joined with the producing team in 2004 and 2006 to win the Emmy for Outstanding Drama Series. Weiner also garnered an Emmy nomination with Terence Winter for Outstanding Writing in the 2004 episode "Unidentified Black Males." He earned another Emmy nomination in 2007 for writing the episode "Kennedy and Heidi" with David Chase, and won a 2007 Writers Guild Award for the series and three PGA Golden Laurel Awards for Television Producer of the Year in Episodic.
Before working on The Sopranos, Weiner wrote for various television series, including The Naked Truth, Becker, and Andy Richter Controls the Universe. He also wrote and directed the independent feature, What Do You Do All Day?
Born in Los Angeles, Weiner studied Philosophy, Literature, and History at Wesleyan University. He also earned his MFA from the University of Southern California School of Cinema and Television. Weiner lives in Los Angeles with his wife, architect Linda Brettler, and their four sons.