Characters
Trudy Campbell
Played by Alison Brie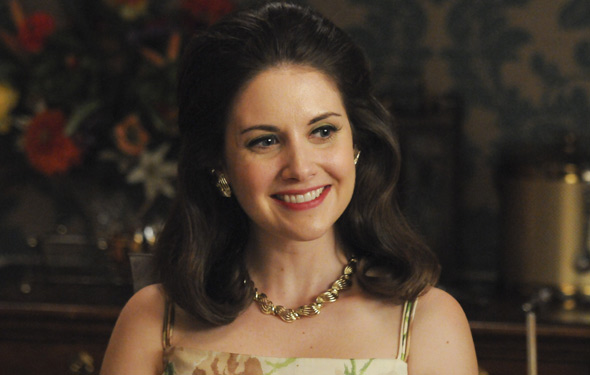 Trudy Campbell is married to Pete Campbell, a Partner at the Sterling Cooper Draper Pryce advertising agency. The couple live with their infant daughter, Tammy, in Cos Cob, Connecticut.
Early in her marriage, Trudy is unable to conceive and Pete, ambivalent about parenthood, rejects adoption as a possibility. Trudy resigns herself to being childless but when she unexpectedly becomes pregnant, Pete's enthusiasm about fatherhood increases her delight. "It feels much different than I expected," he muses. Unaware that her husband fathered a child with Peggy Olson, Trudy replies, "How would you know what this feels like?"
Trudy's father Tom, a salesman for Vicks Chemical, helped Pete land the Clearasil account. Tom inadvertently reveals Trudy's pregnancy on the evening Pete is supposed to inform Tom that SCDP is dropping Clearasil due to a conflict with another client. Trudy offers to deliver the bad news, reasoning that her father is so happy for her that "he'll never feel the knife go in."
Trudy is equally calculating when Pete's partnership agreement requires him to provide cash collateral to keep SCDP afloat. "You are forbidden to give anything more to that company," Trudy shouts, insisting that the money is for their daughter. The point becomes moot when Don Draper pays Pete's share for him.
Trudy Campbell Quotes
"I am going to change the sheets."

Season 3, Episode 13: "Shut the Door. Have a Seat"
"Peter, may I speak to you for a moment?"

Season 3, Episode 13: "Shut the Door. Have a Seat"
"Why don't you let my father hear this from me…. He'll never feel the knife go in."

Season 4, Episode 4: "The Rejected"
"I want a rare steak and I want to see those two men pound each other."

Season 4, Episode 7: "The Suitcase"
"You are forbidden to give anything more to that company."

Season 4, Episode 12: "Blowing Smoke"