Cast Members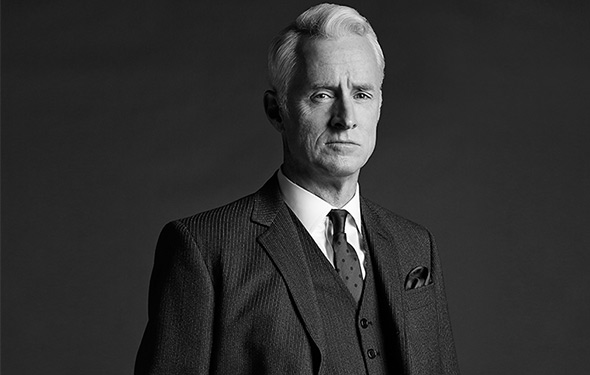 John Slattery is one of the most respected and charismatic actors working today and he continues to win audiences over with his stellar scene-stealing work in TV, film and on stage.
Slattery's work as Roger Sterling has earned the actor four Emmy nominations and a Critics' Choice Television Award nomination for Best Supporting Actor in a Drama Series, and he has been nominated five times for the SAG Award as a member of the Mad Men ensemble cast, winning twice.
In the last several years, he's added the title of director to his list of credits, having directed several episodes of Mad Men, including two for the upcoming sixth season.
Slattery recently wrapped production on Lance Edmands' Bluebird, co-starring with Adam Driver and Margo Martindale. Additional film credits include roles in Liza Johnson's Return, which premiered at the 2011 Cannes Film Festival; and in Brian Savelson's In Our Nature, which premiered at the 2012 South by Southwest Film Festival, opposite Gabrielle Union, Zach Gilford and Jena Malone.
Other film credits include roles in The Adjustment Bureau, Iron Man 2, Flags of Our Fathers, Charlie Wilson's War, Reservation Road, Mona Lisa's Smile, The Station Agent, Bad Company and Traffic.
Past television credits include Desperate Housewives, Homefront, Ed, K Street and the drama Jack & Bobby. He has also been seen in highly memorable guest appearances on Sex & The City, Will & Grace and Judging Amy.
On stage, Slattery has appeared on Broadway in the Pulitzer Prize-winning Rabbit Hole, for which he was nominated for a Drama League Award, the Broadway revival of Betrayal and opposite Nathan Lane in Neil Simon's Laughter on the 23rd Floor. His Off-Broadway credits include the original production of Three Days of Rain, which earned him the LA Drama Critics Award and a Drama Desk nomination.
Slattery is a Boston native who currently resides in New York City with his wife and son.
Read an interview with John Slattery for Season 1 »
Read an interview with John Slattery for Season 2 »
Read an interview with John Slattery for Season 3 »
Watch a video of John Slattery answering fan questions for Season 3 »
Read an interview with John Slattery for Season 4 »
Read an interview with John Slattery for Season 5 »
Read more on John Slattery in the AMC Movie Guide »
Play the JOhn Slattery Ultimate Fan Game »