Cast Members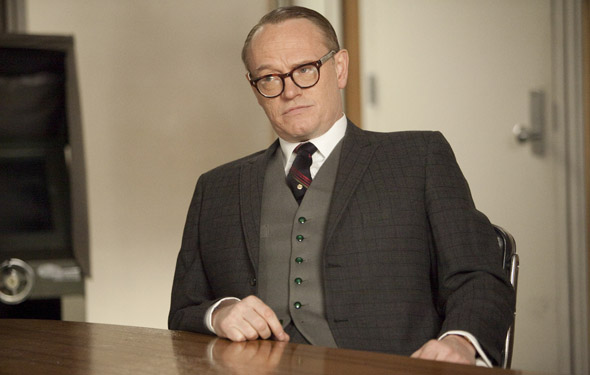 A classically trained stage actor and former member of London's famed Royal Shakespeare Company, Jared Harris' prolific career continuously showcases his chameleon-like ability to morph from one character to another.
Harris' extensive film career includes his recent turn as Professor James Moriarty alongside Robert Downey Jr. and Jude Law for director Guy Ritchie in Sherlock Holmes: A Game of Shadows. He also appeared opposite Harrison Ford and Brendan Fraser in Extraordinary Measures, and with Brad Pitt and Cate Blanchett in David Fincher's critically acclaimed film, The Curious Case of Benjamin Button. Harris made his film debut in 1989's The Rachel Papers, which was the directorial debut of his brother Damian, and since then has gone on to appear in over fifty films in a wide array of roles, including a riveting portrayal of Andy Warhol in the acclaimed I Shot Andy Warhol, and the sleazy Russian cab driver, Vladimir, in Todd Solondz's Happiness, for which the cast received the 1999 National Board of Review Acting Ensemble Award. Additional credits include Last of the Mohicans, Natural Born Killers, Sylvia and Ocean's Twelve among others. Most recently, Harris completed work on Steven Spielberg's upcoming film Lincoln, in the role of Ulysses S. Grant. In television, Harris has accumulated an impressive list of credits in both England and the U.S., including a highly acclaimed performance as Henry VIII for the BBC production of The Other Boleyn Girl. Additional BBC credits include the mini-series To The Ends of the Earth and the starring role in Coup! Stateside, Harris has been seen in recurring roles for both The Riches and Fringe and has guest-starred in Law & Order: Special Victims Unit, and Without a Trace.
Harris has appeared with some of the most renowned theater companies in both London and New York, and made his American stage debut as Hotspur in the New York Shakespeare Festival's Henry IV, Parts 1 & 2. He then went on to perform with the company in both the acclaimed version of Tis Pity She's A Whore and King Lear. Additional stage credits include the New Group's Obie Award-winning production of Mike Leigh's Ecstasy, the New Jersey Shakespeare Company's experimental production of Hamlet, in which he played the title role, the Almeida Theatre's production of Tennessee William's bittersweet comedy A Period of Adjustment, and the Vineyard Theater's production of More Lies About Jerzy.
Harris was born in London, and is the son of famed Irish actor, Richard Harris. He attended North Carolina's Duke University, where he majored in drama and literature and after graduation, studied at the Central School of Speech and Drama in London. Harris currently lives in Los Angeles.
Read an interview with Jared Harris for Season 3 »
Read an interview with Jared Harris for Season 4 »
Read an interview with Jared Harris for Season 5 »
Read more on Jared Harris in the AMC Movie Guide »