Characters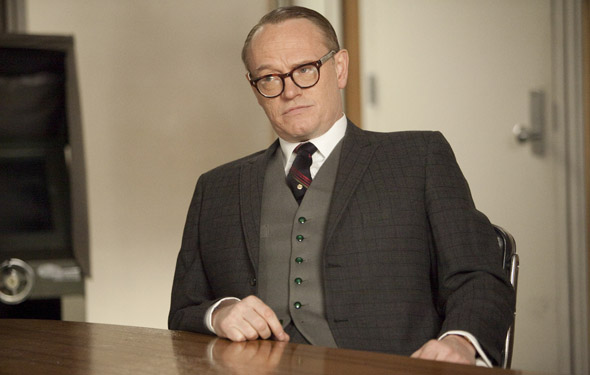 Lane Pryce was a Partner at the Sterling Cooper Draper Pryce advertising agency. He lived with his son and wife, Rebecca, who moved to New York despite being homesick for their hometown of London.
Lane comes to New York as part of Sterling Cooper's merger with the British firm Puttnam, Powell, and Lowe and distinguishes himself by reducing overhead and raising billings. Despite this success, Lane's bosses bring in a replacement, but a catastrophic accident results in Lane's reinstatement.
Lane's bosses again leave him out of the loop when negotiating the sale of PPL -- and along with it Sterling Cooper -- to the giant agency McCann Erickson. When Don Draper points out that Lane will likely be "thrown overboard" again, the normally cautious executive frees Don, Bertram Cooper, and Roger Sterling from their employment contracts, allowing them to start a new agency and name Lane a partner.
Lane closely monitors SCDP's finances, and though he worries about the agency's dependence on Lucky Strike he declares the first year of business a success. He appeals to Pete Campbell 's pragmatism after engineering the return of Ken Cosgrove as an account executive. Despite some awkward moments with Joan Harris, Peggy Olson observes the two "basically run this place."
Despite encounters with his abusive father and a brief fling with a black Playboy Bunny, Lane maintains a solid relationship with his wife and continues to live in the United States. When Lucky Strike's defection is announced, Lane reduces the agency's workforce and arranges a line of credit to keep the agency afloat.
When Lane learns he owes £2,900 in back taxes in England, he embezzles money from the agency to cover his debt by forging Don's signature on a Christmas bonus check. Upon discovery of the cancelled check, Don demands Lane's resignation and gives him the weekend to come up with an "elegant exit." Lane goes home and gets his papers in order, then hangs himself in his office leaving a resignation letter as his suicide note.
Lane Pryce Quotes
"I feel like I just went to my own funeral. I didn't like the eulogy."

Season 3, Episode 6: "Guy Walks Into an Advertising Agency"
"I've been here 10 months and no one's ever asked me where I went to school."

Season 3, Episode 10: "The Color Blue"
"I understand that all men are dizzy and powerless to refuse you, but consider me the incorruptible exception."

Season 4, Episode 3: "The Good News"
"We're not homosexuals, we're divorced."

Season 4, Episode 3: "The Good News"
"If your tantrum has subsided, you're welcome to join us."

Season 4, Episode 6: "Waldorf Stories"