Characters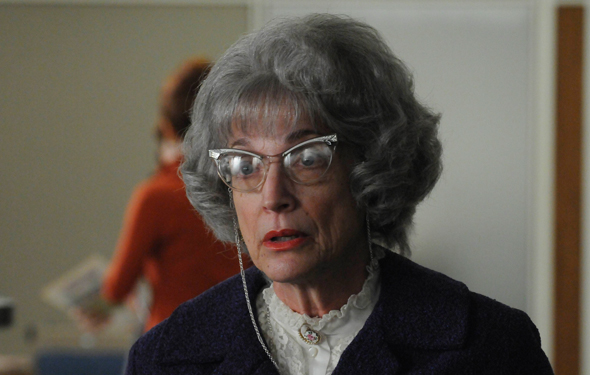 The elderly Miss Blankenship becomes Don Draper's secretary after he has a drunken tryst with her predecessor, Allison, who then resigns. "What'd you do to make them take her out of mothballs?" jokes Roger Sterling, who notes that before this assignment Miss Blankenship had been working in Bertram Cooper's apartment.
With her large eyeglasses and gravelly voice, Miss Blankenship exasperates Don by misinterpreting his directions and taking confused and inaccurate messages. Peggy Olson points out that he could replace Miss Blankenship. Don replies that Joan Harris knew what she was doing by assigning her.
One night Don happens upon a recording Roger makes for his memoirs in which he recalls angering Cooper decades earlier by romancing his secretary, Ida Blankenship. Roger refers to Miss Blankenship in her younger days as "the queen of perversions."
When Miss Blankenship dies suddenly at her desk, Cooper becomes distressed upon being told that Miss Blankenship's body is being taken to the morgue and redirects it to a funeral home. Later, Cooper contributes to her obituary: "She was born in 1898 in a barn. She died on the thirty-seventh floor of a skyscraper. She's an astronaut."