Characters
Freddie Rumsen
Played by Joel Murray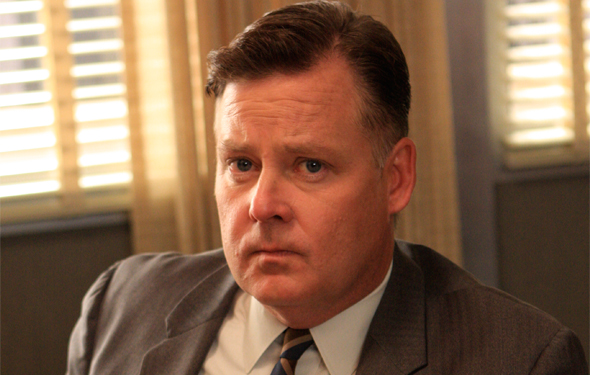 Freddie Rumsen is a Copywriter at Sterling Cooper Draper Pryce. His tenure at the old Sterling Cooper dates back to the days when Roger Sterling 's father was in charge, but in the early 1960s Freddie is forced to take a leave of absence after drunkenly wetting his pants and then passing out before a big meeting with Samsonite luggage executives. Prior to that mishap, Freddie realizes Peggy Olson 's knack for copywriting and champions her to Don Draper.
Roger rehires Freddie after he offers SCDP the $2 million Pond's Cold Cream account in return for a job. Freddie, clean and sober for sixteen months, makes one request: that Pete Campbell, who got him fired, not service the account.
Freddie's return at first delights Peggy, but she calls him "old-fashioned" when he suggests that the young women Pond's is targeting are desperate to get married. By the time Faye Miller 's focus group proves Freddie's instincts correct, Peggy has apologized and even sought his advice about her relationship with her boyfriend.
Freddie Rumsen Quotes
"A day without orange juice is a helluva long day."

Season 1, Episode 5: "5G"
"Let's throw it to the chickens."

Season 1, Episode 5: "5G"
"I don't speak moron."

Season 1, Episode 5: "5G"
"Sounds like a visit from the stork or DeBeers, or it could just be a new hairdo."

Season 2, Episode 5: "The New Girl"
"What am I going to tell Violet?"

Season 2, Episode 9: "Six Month Leave"