Characters
Faye Miller
Played by Cara Buono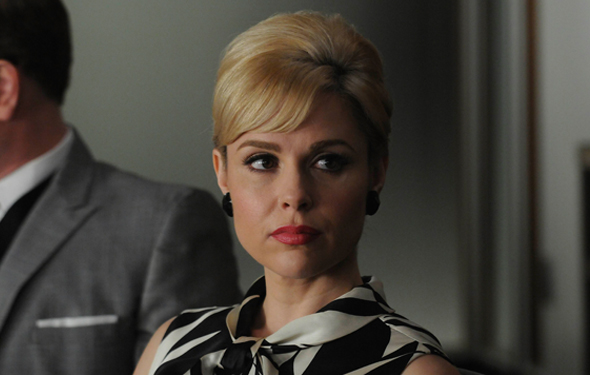 Dr. Faye Miller is a consultant for a consumer-research company that Bertram Cooper hires. Don Draper initially resists her psychological approach, arguing that questions about childhood won't help him sell floor wax. Faye replies that his much-lauded Glo-Coat commercial "must be about someone's childhood," then predicts that Don will remarry within a year.
After Don wins a Clio Award for the Glo-Coat spot, he makes advances that Faye fends off, though she later agrees to a dinner date. Don surprises her by concluding the evening with merely a kiss, but a short time later the two begin sleeping together.
One day, Don's daughter Sally throws a tantrum and Faye is unable to calm her, though the receptionist Megan does. Faye tells Don she feels like she failed a test, but he assures her that the situation wasn't her fault.
Desperate for new business after SCDP loses the Lucky Strike account, Don asks Faye to tip him off about disgruntled clients at other agencies where she consults. She declines to do so on ethical grounds, but later relents and arranges a meeting with Heinz.
Shortly before he departs for California with his children, Don describes a "sick feeling in the pit of my stomach." Faye, who learned of Don's secret identity after nursing him through a panic attack, suggests that resolving his past might ease his anxiety. "I'm gonna miss you," says Don.
The next time Faye hears from Don, he announces his engagement. Tearful, Faye says that she hopes his fiancée realizes that he only likes "the beginnings of things."