Cast Members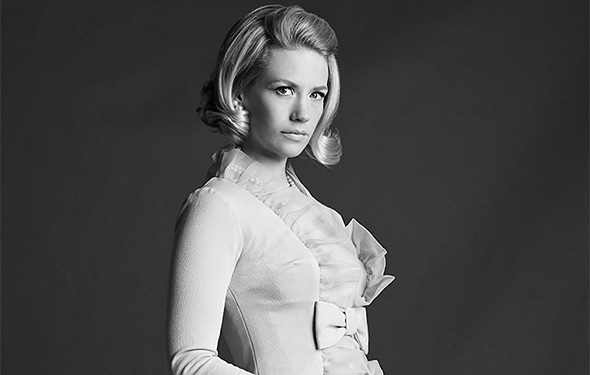 January Jones' portrayal of the 'perfect' 60s wife and young mother has garnered the attention of critics and viewers alike and earned her two Golden Globe nominations and an Emmy nomination for Best Performance by an Actress in a Television Series – Drama. She also joined with the entire cast in winning two Screen Actors Guild Awards for Outstanding Performance by an Ensemble in a Drama Series and four Emmy Awards for Outstanding Drama Series.
Jones has an extensive film career in addition to her work on Mad Men, and will soon star in Sweetwater opposite Ed Harris. She was most recently featured in Seeking Justice with Nicolas Cage and Guy Pearce, directed by Roger Donaldson, and as Emma Frost in the latest installment of the X-Men series, X-Men: First Class. She also appeared alongside Liam Neeson and Diane Kruger in Unknown, directed by Jaume Collet-Serra, and opposite Philip Seymour Hoffman and Kenneth Branagh in The Boat That Rocked, written and directed by Richard Curtis. Jones first came to critics' attention for her performance in the film The Three Burials of Melquiades Estrada for actor/director Tommy Lee Jones, which debuted at the Cannes Film Festival, and also starred in the critically-acclaimed festival hit Swedish Auto, and in the McG-directed, We Are Marshall opposite Matthew Fox and Matthew McConaughey.
Additional film credits include roles in American Wedding; Anger Management alongside Adam Sandler and Jack Nicholson; Love Actually with Colin Firth and Keira Knightley; Bandits with Billy Bob Thornton, Bruce Willis and Cate Blanchett for director/producer Barry Levinson; and Full Frontal directed by Steven Soderbergh.
A native of Sioux Falls, SD, Jones currently resides in Los Angeles.
Read an interview with January Jones for Season 1 »
Read an interview with January Jones for Season 2 »
Read an interview with January Jones for Season 3 »
Read an interview with January Jones for Season 4 »
Read an interview with January Jones for Season 5 »
Read more on January Jones in the AMC Movie Guide »
Play the January Jones Ultimate Fan Game »