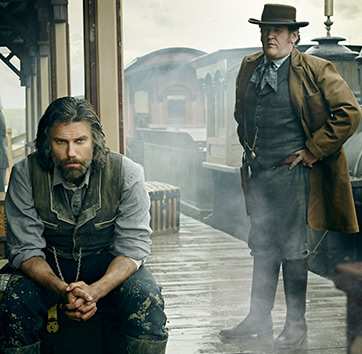 About the Show
Centered on the lawless town known as "Hell on Wheels" that travels with and services the construction of the first transcontinental railroad, Hell on Wheels examines the railroad's institutionalized greed and corruption, the immigrant experience, and the plight of the newly emancipated African-Americans during reconstruction. The series stars Anson Mount as former confederate soldier Cullen Bohannon, who is struggling to escape his demons from the recently-fought Civil War; Colm Meaney as Thomas "Doc" Durant, a greedy entrepreneur taking full advantage of the changing times, and Common as Elam Ferguson, an emancipated slave working to achieve true freedom in a world entrenched in prejudice.
Season 3 ended with Cullen Bohannon married to a pregnant Naomi Hatch (MacKenzie Porter) and living in the Mormon fort where The Swede (Christopher Heyerdahl) was impersonating church leader Bishop Dutson; Thomas Durant back in control of the Union Pacific Railroad, which had successfully expanded westward to Cheyenne; and Elam gravely injured by a bear while searching for the missing Cullen.
As Season 4 unfolds, civilization makes its way west with the railroad, bringing with it men who attempt to do with their pens what rougher men did in seasons past with their guns. Conflict between government and big business, ranchers, homesteaders and the railroad will continue to define the drama as all of those interests compete with one another for control of Cheyenne, Wyoming, the "Magic City of the Plains," and the most important railroad hub in the country. The season will also introduce several new characters including John Campbell (Jake Weber).
Hell on Wheels received a 2012 Emmy nomination for Outstanding Original Main Title Theme Music. John Wirth (Falling Skies, Terminator: The Sarah Connor Chronicles) serves as executive producer and showrunner.

Like Hell on Wheels on Facebook

Follow Hell on Wheels on Twitter
Sign up for the Hell on Wheels Telegraph, the weekly email newsletter »