After nine weeks of intense team competition, all the Game of Arms competitors converge in an abandoned theater in Los Angeles with their sights set on one goal: To be the last man standing, even if it means taking out a teammate.
"What I've done in the past… the world titles, that means nothing now," reflects Andrew "Cobra" Rhodes. "Today is what matters."
Each athlete will vie for a championship title and $1,000 in one of four weight classes: lightweight, middleweight, heavyweight, and super heavyweight. In order to reach the title round, the competitors must make it through a double-elimination "lightning round" where they have only one pull to beat an opponent and advance.
The lightweights are up first. Arm wrestling legend Andrew "Cobra" Rhodes is pitted against Luke Kindt. After a slip, the straps come into play, where Rhodes uses his leverage for the pin. Kindt stays in the mix by beating Allen Fisher. Ethan Fritsche knocks Fisher out of the tournament, but then must face Rhodes, his mentor. An emotional Rhodes hands Fritsche his first loss of the season.
After Fritsche loses to Kindt, Rhodes faces Kindt again in the lightweight finals. Rhodes strikes first, but Kindt rallies back for two consecutive pins and the lightweight title.
After running the table against Bill Logsdon, Mike McGraw and Bart Wood, longtime rivals Mike Selearis and Craig Tullier meet for the middleweight title. Setting up, Tullier complains Selearis is looking for a grip advantage. He smashes Selearis to the table, but his elbow comes off the pad in the process -- a foul. After a slip calls for the straps, Tullier's power takes over. Tullier pins Selearis twice for the win as Selearis's wife and child look on.
The heavyweights step up next. Kenny Hughes, who has battled accusations of self-sabotage through drinking, shows up sober. He takes down Rob Bigwood and Dan Fortuna, while teammate Tom Nelson beats Kevin Nelson and James Wagner to advance to the heavyweight finals -- guaranteeing a Sacramento Arm Benders title. That goes to Hughes, who pins Nelson without breaking stride.
"Kenny's sober, that's what just happened," Selearis marvels.
Thanks to a blind draw, super heavyweights Travis Bagent and Dave Chaffee are up first. Though the two are friends and teammates, acrimony surfaces. "Travis is scared to death," Chaffee says.
Though Chaffee has never gotten the better of Bagent in the past, today's his day. In a stunning upset, Chaffee slams Bagent to the table. It's Bagent's first loss of the season, but he rebounds with wins against Josh "Turbo" Burrow and Matt "Chop" Bertrand, and rival Don Underwood to face Chaffee (who's also beaten Mike Ayello and Don Underwood) once more in the finals.
Because the men have opposing dominant hands -- Bagent left, Chaffee, right -- the men agree to alternate arms, with the first to take two consecutive rounds declared the winner.
As the back-and-forth battle wears on, it becomes clear that Chafee can't handle Bagent's left; likewise, Bagent has no answer for Chaffee's right. Time and again, the men switch arms and trade victories. While most pulls are over in seconds, Chaffee and Bagent go over 30 rounds, both their arms swollen with exertion.
Nearby, their fellow wrestlers grow concerned. "They're ripping each other's arms off," one says. Another begs them to stop: They refuse. The crowd picks up a chant for "two champs."
After the 36th straight pull, the referee calls a stalemate. Both Bagent and Chaffee are declared super-heavyweight champions of Game of Arms. They have just enough strength left to bump fists and lift the trophy in the air.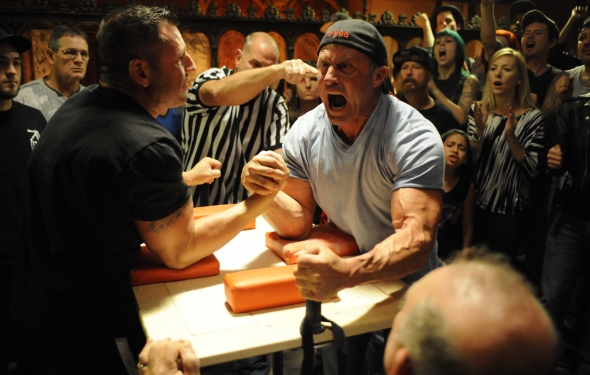 You must be logged into Comment
Newest
Oldest
Most Replied
Most Liked
Comments( )