Characters
Murrugun "The Mystic"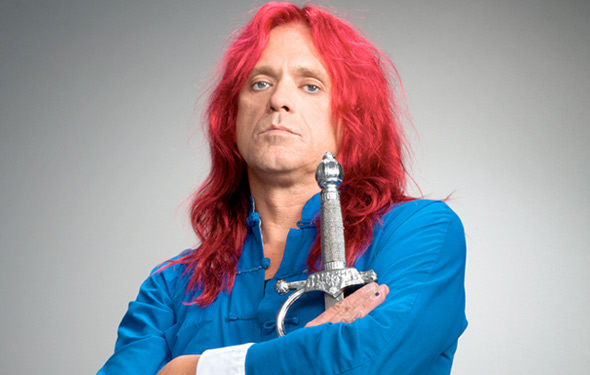 Murrugun "The Mystic" is a veteran sideshow star who is known for his spectacular, and spectacularly dangerous, sword-swallowing and human pincushion acts. He is the only person in the world to have a swallowed a rocket-powered sword – which he designed and built himself. He pushes pieces of steel rods straight through his arms, face, back and chest, all without drawing blood. Murrugun is a skilled practitioner of mind and control: he can lower his blood pressure and heart rate, and even stop his heart entirely.
Murrugun has always had an affinity for the strange and mysterious. When he was nine years old, he snuck out of the house to see Tod Browning's 1932 cult classic, Freaks. He went in expecting to see a straightforward horror film, not realizing that the film's cast was comprised of actual carnival performers with physical malformations. "I got inside the theater, and it was like, 'Wow, these are real people.' I didn't know what to think at that time, but it made a deep impression on me," he recalls. "The theme of the movie – that the 'freaks' had their own sets of rules and standards of conduct – that was very powerful. You saw them as a family unit."
A few years later, he was inspired to attempt his first sideshow trick. "I saw a rock band on television, and one of the members blew fire. I said, 'I can do that!' I ran out to the backyard, made a torch, put lighter fluid in my mouth and blew fire." Thus began his self-education in the sideshow arts. Through a combination of diligent study (classic magic texts, medical books), experimentation and practice, Murrugun built up an impressive repertoire of specialties and began his performing career in 2000.
Murrugun was the first circus artist Todd Ray approached to appear at the Venice Beach Freakshow, and he's been a mainstay of the show ever since. "It's definitely an extended family for all of us," he says. "When we all get together, it's like Christmas, or New Year's or a relative's birthday. Some of us get out of hand, some bickering starts, but it all gets resolved by the end of the night. We're like a family in that we don't always agree on things, and we have to work it out. We're different people from different walks of life, and we've come together to make one good show. It's a unique experience, and I love it."
Watch a video profile of Murrugun "The Mystic" »
Discuss Murrugun "The Mystic" on the AMC Talk Forum »