Characters
Creature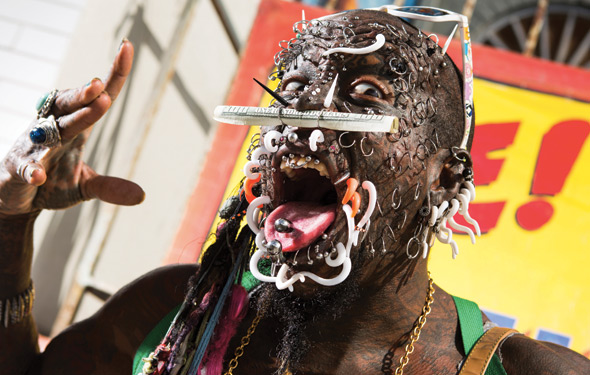 Marcus "The Creature" is one of the world's most tattooed and pierced individuals, and the first African-American body modification artist in freak show history. From head to toe, Marcus is covered in ink, rings, spikes and more – and he did the vast majority of the work with his own two hands (it helps that he's ambidextrous). His tattoos are a record of his life and times, and he adds some sort of new modification every day. He's been part of the Venice Beach Freakshow for three years, and his combination of unique body art, friendly, open personality and exuberant wardrobe have made him a fan favorite.
Growing up, Marcus became interested in tribal cultures and traditions, including the piercings that distinguished tribal warriors. He got his first piercing at age 14, and when it fell out the first night, he simply re-pierced it himself. Five years later, he started an apprenticeship at the Los Angeles tattoo and piercing parlor, Art & Soul. Once he started marking his body, he didn't want to stop. "People told me, 'you shouldn't do this, it's too extreme.' And I said, 'No, our forefathers did this. I want to create my inner warrior,'" he recalls. "That was the start of Creature; it was about self-creation. It was a challenge, especially with the tattoos and color, because the materials just aren't on the market for minorities. But I felt it was important to create a body that resembles no one else's and that would be influential. By representing like this, I'm showing people that they can do what others say can't be done."
Marcus is a proud father of a five-year-old daughter and a two-year-old son. He considers the Rays to be his family, too. "Todd's given me the best advice, helped me with my relationships, with my kids, he's taught me how to shut up and how to listen. He's been there to lift me up when I'm depressed. Hearing him say, 'Don't worry, Creature, I love you, don't worry, brother' – that's kept me motivated. I'll always be in Todd's corner. He's like a father to me. Danielle is like a mother, the kids are like my sister and brother."
He's excited about introducing the wonders of the Venice Beach Freakshow to a wider audience. "Everything you'd see in a Guinness book or 'Ripley's Believe It or Not,' we're bringing it to you live. All the things you might've just heard about but never seen, like sword-swallowing, you'll see it here. There's real dedication behind this, no tricks, no camera," he declares. "As far as my role in the Freakshow, I just tell people to look at my body and ask me what's new. Because every time you see me, there's something new. What's next for me? We'll see."
Watch a video profile of Marcus "The Creature" »
Discuss Marcus "The Creature" on the AMC Talk Forum »
Read an interview with Marcus "The Creature" »
Watch Creature's Freak Act video