Characters
George Bell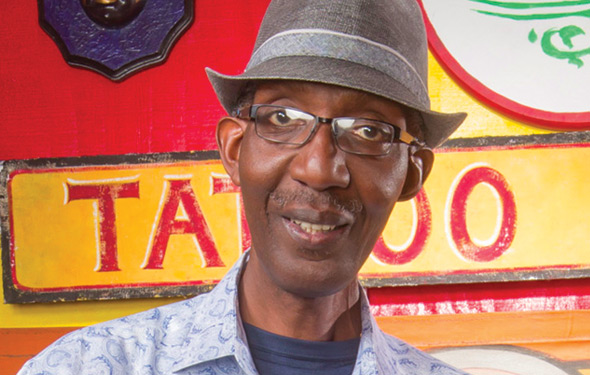 George Bell stands 7 feet, 8 inches tall and was recognized by the Guinness Book of World Records as the tallest man in the United States in 2007. He held that distinction for three years (the current record holder is 7 feet, 8.33 inches), and today is the second tallest man in the country.
Over the course of his life, George has grown accustomed to the challenges of being very tall, and meets them with equanimity. "People will ask me, 'How do you fit in a car? How do you find clothes?' It's just everyday life for me. I've learned over the years to deal with things as they are and not let them become a problem."
His hometown is Portsmouth, Virginia, and he was well over 5 feet tall before his tenth birthday. He hit 6 feet in middle school, and was 7'6" when he graduated high school. After college, he had a short career as a basketball player with the Harlem Globetrotters and the Harlem Wizards, entertaining audiences around the world. Once he left sports, he returned home to Norfolk, Virginia, where he has been a law enforcement officer for 12 years. Durham, North Carolina is home to George's daughter and two-year-old grandson.
George had never performed in any kind of sideshow until Todd Ray found him through his website, and invited him to come to California to be a greeter at the Venice Beach Freakshow. "I was a little skeptical when Todd first contacted me," George says. As he talked with Todd and got to know, he got a fuller picture of the Freakshow and knew he would be treated with respect. "I came out and received a warm welcome from everyone. I feel very good about this group, because it's like a family."
His role at the Venice Beach Freakshow consists mainly of being his cordial self, greeting customers, taking pictures and mingling. Happily, this leaves him time to enjoy the attractions as a spectator. "I've been amazed by all the live animals – a two-headed snake, a two-headed turtle. There are also a lot of unusual taxidermy animals, conjoined creatures and so on. I've been amazed by the sideshow crew, all these unique people you can see in one place: a bearded lady, a small lady, sword-swallowers. And the second-tallest man in the United States."
Watch a video profile of George Bell »
Discuss George Bell on the AMC Talk Forum »
Read an interview with George Bell »