Characters
Danielle Ray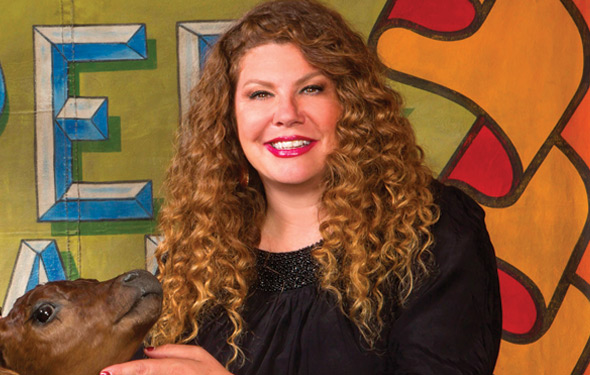 Danielle Ray is Todd's wife, who maintains the front desk inside the Freakshow while holding the family's five-legged dog, Rocky. A down-to-earth Italian-American born and raised in New York City, Danielle is very much the mother hen of the operation and is also known as "Freakshow Mama."
Danielle tells the story of how she met Todd, who had moved to New York when his hip-hop group got a record contract. It was a week after Danielle's 17th birthday, and she'd gone to Queens with her mother, who was getting a haircut at a friend's basement beauty parlor. "One of Todd's roommates was friends with my mom's friend. He said, 'Come next door, we're playing video games,' and I said okay. I met Todd, and we never separated." She's not exaggerating. Over the course of 25 years, neither Danielle nor Todd can remember ever spending a night apart.
The togetherness reached a new level with the planning and opening of the Venice Beach Freakshow. Though Danielle regularly joined Todd when he was working in the recording studio, they had never officially worked together. "For Todd and me to merge our personal lives with business, most of the time it's unbelievably great," she says. "Todd's passion, his love for what he's doing and his curiosity inspires me. He drives me nuts sometimes, but anybody does when you're with them 24 hours a day. And I wouldn't have it any other way."
She's proud of what they've built with The Venice Beach Freakshow, the entertainment it offers and what it represents. "It's a place where you can come in and see all the beautiful wonders of the world that you really can't see anywhere else. It's a place for a lot of people to be part of a family and fit in. You don't have to be a sword-swallower or a fire eater or do something spectacular -- everyone is accepted at the Freakshow. That's what we're about."
Watch a video profile of Danielle Ray »
Discuss Danielle Ray on the AMC Talk Forum »
Read an interview with Danielle Ray »