Characters
Brianna Belladonna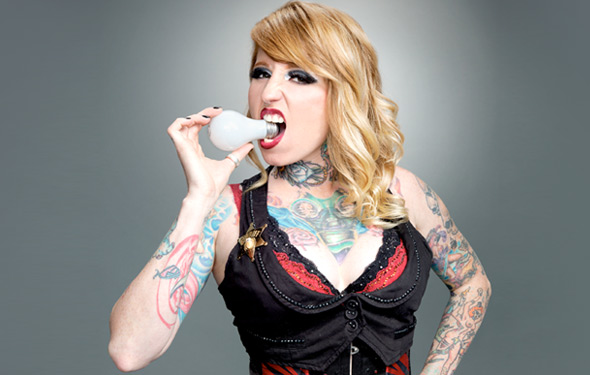 The sumptuously tattooed Brianna Belladonna "The Indestructible Woman" has been a sideshow performer for over five years, and incorporates a range of specialties in her act: sword-swallowing, fire-eating/breathing, light bulb-eating and more. She holds two world records in sword-swallowing: as the first woman in the world ever to swallow a sword while being suspended from hooks, and as the current record holder for the most swords swallowed while suspended.
Formerly a tattoo artist, Brianna's current career was sparked by her longstanding interest in two stalwarts of the sideshow canon: fire-eating and the bed of nails. "Like most people, I was skeptical and thought there was a trick to these acts, that they weren't real," she recalls. "Then I started getting into sideshows, and found out it's all real! I talked to some sideshow performers and told them I wanted to lie on their beds of nails. One thing led to another, and those performers ended up teaching me a lot of what I know today."
In September 2009, Brianna was performing in a Las Vegas casino show called "Freaks" when she got some time off for a vacation. She went to Los Angeles and made a beeline for Todd Ray's Venice Beach Freakshow, eager to see the classic 20th Century sideshow reinvented for a new era. In short order, she met Todd, who was already familiar with her work, and the rest of the Ray family. When "Freaks" closed, Todd offered Brianna a job, and she's been part of the extended Ray family ever since.
It was in Los Angeles that Brianna learned sword-swallowing, aided by her fellow performer, Brett. "Todd was very encouraging, and he was just so proud of me when I mastered it. That made me feel good," she says. She's an avid student of sideshow history, and takes pride in her profession. "It's really about making the impossible, possible. I talk to people one-on-one after the show and they'll be amazed. What I tell them is this: if you saw me swallow swords, and didn't think it could be real except you saw me with your own eyes – that's something you can apply to your own life. You don't have to go out and breathe fire, but the point is that nothing is impossible. If you really want it, you can do anything in the world. That's my inspiration and motivation for doing what I do. Also, I'm crazy!!"
Watch a video profile of Brianna Belladonna »
Discuss Brianna Belladonna on the AMC Talk Forum »
Read an interview with Brianna Belladonna »