Characters
Walter White, Jr.
Played by RJ Mitte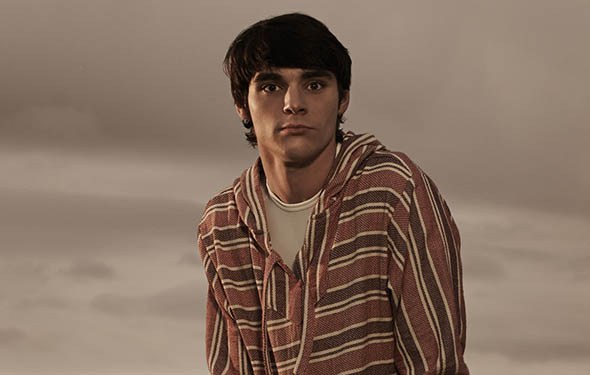 Walter White, Jr. is Walt and Skyler's son. Born with cerebral palsy, Junior is an otherwise typical high school kid who uses crutches to get around. He worships his father, and when Walt agrees to undergo expensive lung surgery, his son creates a website, SaveWalterWhite.com, to raise money. "What a wonderful dad I have," Junior declares on the site.
Walt's banishment from the family home alienates Walter, Jr. from his mother. When Walt shows up at the house and Skyler calls the cops, Junior tells them Skyler is the problem. "My dad, he is a great guy," he promises.
Walter, Jr. becomes elated when it appears that Walt will return home. Walt confesses that it's unlikely to happen, so Junior guilts his father into buying him a new car. When Skyler demands Walt return the sports car, Junior again blames his mother for the loss. He struggles to conceal his disappointment when she subsequently buys him a more sensible ride.
Walt misses Junior's 16th birthday party while recovering from a brawl with Jesse. Walter, Jr. confronts a bruised and highly medicated Walt, who breaks down in tears. He comforts Walt, who at one point calls his son "Jesse." The next morning, Walt worries that Junior will remember his father as he was the night before. "It wouldn't be that bad," Junior replies. Unlike the past year, Walt seemed "real" to him that night.
After launching a new meth business, Walt once again treats Junior to a brand new car. Skyler, worried that Walt's profession is jeopardizing the children's safety, arranges for Junior and Holly to move in with Hank and Marie. Unhappy with the decision, Junior tries to move back home. He refuses to leave until Walt gets tough with him, and then he begrudgingly returns to the Schrader house.
Walt eventually quits the meth business, allowing Junior and Holly to finally return home.
Walter White, Jr. Quotes
"Walter, Jr.: How's it feel to be old?
Walt: How's it feel to be a smartass?
Walter, Jr.: Good."

Season 1, Episode 1: "Pilot"
"This smells like band-aids."

Season 1, Episode 1: "Pilot"
"Do I look like a skater?"

Season 1, Episode 1: "Pilot"
"I thought we were going to Coldstone Creamery."

Season 1, Episode 3: "…And the Bag's In the River"
"Then why don't you f—— die already?!"

Season 1, Episode 4: Cancer Man"
"You're being a pussy! All this stuff I've been through, and you're scared of a little chemotherapy?"

Season 1, Episode 5: "Gray Matter"
"Badass, Dad"

Season 1, Episode 6: "Crazy Handful of Nothin'"
"It's not that hard, Mom. It says 'crunch' on the box."

Season 2, Episode 7: "Negro Y Azul"
"I kept up right?"

Season 2, Episode 10: "Over"
"My dad is my hero."

Season 2, Episode 13: "ABQ"
"My name is Walter Junior."

Season 3, Episode 1: "No Mas"
[To Skyler] "Why ya gotta be such a, a bitch?!"

Season 3, Episode 3: "I.F.T"
"Walter, Jr.: Can I be excused?
Skyer: To do your homework or to play video games?
Walter, Jr.: I can multi-task."

Season 3, Episode 11: "Abiquiu"
[To Hank] "So, people in wheelchairs should be in hospitals? What about people on crutches? Maybe I should be in here, too."

Season 3, Episode 12: "Half Measures"
"Damn, Dad. Why'd you quit? I can totally get a car for my birthday now. Right?"

Season 4, Episode 4: Bullet Points
"Hey, Dad. I just wanted to say it's cool to have you here."

Season 4, Episode 5: Shotgun
"I don't see how that's bad. Dad's raking in the boo-coo bucks now."

Season 4, Episode 5: Shotgun
"If you're going to buy me off, buy me off."

Season 4, Episode 6: Cornered
"She's not even allowed to be mad at you. . . . Gambling addiction is a sickness."

Season 4, Episode 6: Cornered
"I barely got around the block, and Mom said we couldn't afford it, so they took it back."

Season 4, Episode 7: Problem Dog
"Thanks, Mom. It's, uh, it's great."

Season 4, Episode 10: Salud
"The bad way to remember you would be the way you've been this whole last year. At least last night you were . . . real."

Season 4, Episode 10: Salud