Characters
Skyler White
Played by Anna Gunn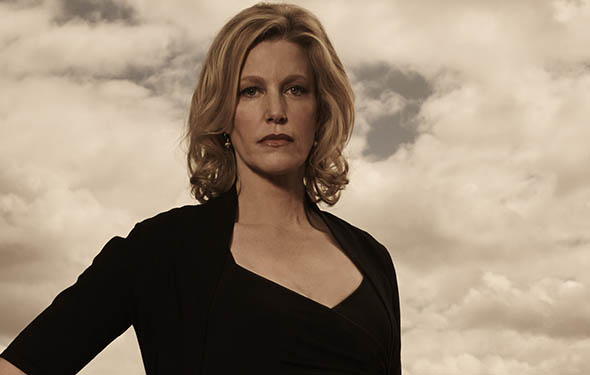 Skyler White is Walt's wife and the mother of their children, Walter, Jr. and Holly. Upon learning that Walt makes meth, Skyler demands a divorce and threatens to call the police if he doesn't leave the family alone. When Walt calls her bluff, Skyler doesn't implicate him because she doesn't want Junior to find out that his dad is a criminal. Instead, Skyler retaliates by beginning a loveless affair with her boss, Ted Beneke, who is committing major fraud to keep his business afloat.
Sensing that injuries her brother-in-law Hank suffered in a drug-related shootout are connected to Walt's activities, Skyler offers to pay for his medical bills, explaining to Marie that Walt won a lot of money playing illegal card games. Knowing that Hank would never accept charity, the sisters agree not to tell him that the Whites' are augmenting his insurance.
Skyler embellishes this cover story after convincing Walt to buy the car wash where he once worked part-time. As its accountant, she will be able to launder his drug earnings through the business. Walt exasperates her by purchasing a flashy sports car for Walter, Jr., contradicting their "story."
"Someone has to protect this family from the man who protects this family," she remarks pointedly.
When the IRS audits Ted's company, Skyler fears that -- as his former head bookkeeper -- she and Walt will be audited too. Without telling Walt, Skyler provides Ted with money to reimburse the IRS. Unfortunately, after Gus threatens to kill Walt's family, Walt searches for the cash to relocate his family permanently. He discovers that it's missing, and horrified Skyler is forced to admit why.
Without the money, Walt tells Skyler that his only option is to go after Gus alone. While in protective custody with the Schraders and her children, Skyler waits anxiously for news from Walt, who calls her after Gus is killed. "We're safe," he says. "I won."
As Walt becomes more consumed with power, Skyler grows depressed and fearful of her husband. She insists the kids live elsewhere for safety reasons. When Walt refuses, she fakes a mental breakdown by walking fully-clothed into the pool during Walt's birthday party. The incident forces Walt to send the kids to Hank and Marie while the Whites supposedly work on their marriage.
After several months of flourishing business, Skyler takes Walt to a storage space where she's been keeping his excess cash flow. "I want my kids back," she tells him. "I want my life back. How big does this pile have to be?"
Afterwards, Walt comes home and tells Skyler, "I'm out."
Skyler White Quotes
"Walt! Is that you?"

Season 1, Episode 1: "Pilot"
"MILFs… what the hell is a MILF?"

Season 1, Episode 2: "Cat's in the Bag…"
"DON'T sell marijuana to my husband."

Season 1, Episode 2: "Cat's in the Bag…"
"Jesus, I guess we didn't get the beige memo."

Season 1, Episode 5: "Gray Matter"
"I don't want him to die at all! That's the whole point of this! So either help or leave!"

Season 1, Episode 5: "Gray Matter"
"I need support. Me: the almost 40-year old pregnant woman with the surprise baby on the way. And the husband with lung cancer who disappears for hours on end and I don't know where he goes and he barely even speaks to me anymore. With the moody son who does the same thing. And the overdrawn checking account. And the lukewarm water heater that leaks rusty looking crap and is rotting out the floor of the utility closet and we can't even afford to fix it! But oh, I see! Now I'm supposed to go, 'Hank, please, what can I possibly do to further benefit my spoiled, kleptomaniac bitch sister who somehow always manages to be the center of attention?' 'Cause God knows she's the one with the really important problems!"

Season 2, Episode 1: "Seven Thirty-Seven"
"Okay, so talk, Walt! Shut up and say something that isn't complete bullshit! You want to know what you have to do? You have to tell me what's really going on, right now — today. No more excuses. No more apologies. No more of these obvious, desperate breakfasts. You don't want to lose contact with me, Walt? Good. Then tell me… now!"

Season 2, Episode 4: "Down"
Walt [showing Skyler a pack of cigarettes]: "Perhaps you know something about these?"
Skyler: "Perhaps. Then again perhaps I don't, Walt. Perhaps I smoked them in a fugue state."

Season 2, Episode 5: "Breakage"
"Your fugue state? I had to believe that, didn't I? I had to find a way. I mean – who would lie about such a thing?"

Season 2, Episode 13: "ABQ"
"Whatever it is, Walt, I'm afraid to know."

Season 2, Episode 13: "ABQ"
"I'm going to make you a deal, Walt. I won't tell Hank and I won't tell your children or anybody else. Nobody will hear it from me, but only if you grant me this divorce and stay out of our lives."

Season 3, Episode 1: "No Mas"
"I can't see why I should lay all this on my family when things may… resolve themselves on their own without anyone else knowing."

Season 3, Episode 3: "I.F.T"
"I f—-d Ted."

Season 3, Episode 3: "I.F.T"
"Somehow, something tells me Hank is here because of you. And I'm not forgetting that."

Season 3, Episode 9: "Kafkaesque"
"Do you even know Walt? I mean, how would he of all people buy a laser tag business?"

Season 3, Episode 11: "Abiquiu"
"Married couples can't be compelled to testify against one another. So there's that."

Season 3, Episode 11: "Abiquiu"
"On a typical day, you average nineteen cars per hour. Extrapolating, I added the extra revenues for hand waxes and detailing, subtracted your overhead and salary and maintenance, operating fees, depreciation, which I obtained from comparable businesses in the Albuquerque area."

Season 4, Episode 2: Thirty-eight Snub
"Walt, it is a car wash, not a brothel. I mean if we can't even say what it is, why are we buying it at all?"

Season 4, Episode 2: Thirty-eight Snub
"If you're not willing to pull the trigger on this, I am more than happy to call Goodman myself."

Season 4, Episode 2: Thirty-eight Snub
"I need you to look me in the eye and tell me right now. Are you in danger?"

Season 4, Episode 3: Open House
"Something along the lines of you weren't man enough to face him yourself. That you had to send your woman to do your business for you."

Season 4, Episode 3: Open House
"Now I'm offering eight hundred. Why? Well, because you're an unpleasant person, Mr. Wolinitz. You were rude to me and disrespectful towards my husband."

Season 4, Episode 3: Open House
"Look at Watergate. One little piece of duct tape left on a door brought down the president of the United States."

Season 4, Episode 3: Open House
"Do you really want to try to sell a DEA agent some ill-prepared, half-assed, full-of-holes story about how we suddenly have enough money to buy a car wash?"

Season 4, Episode 4: Bullet Points
"There can't be any mistakes like before. There has to be complete honesty."

Season 4, Episode 5: Shotgun
"Maybe you should move back in, you know, just so it's easier to explain to everyone."

Season 4, Episode 5: Shotgun
"I think last night was a cry for help. I think some part of you wants Hank to catch you. If he caught you, at least this would all be over."

Season 4, Episode 6: Cornered
"You are not some hardened criminal, Walt. You are in over your head. That's what we tell them. That's the truth."

Season 4, Episode 6: Cornered
"Someone has to protect this family from the man who protects this family."

Season 4, Episode 6: Cornered
"I never wanted any of this."

Season 4, Episode 7: Problem Dog
"You want me to uncook your books?"

Season 4, Episode 9: Bug
"When I input everything into the Quicken, nothing flashed red, so that's gotta mean it's okay, right?"

Season 4, Episode 9: Bug
"There will never be a better deal, Ted. The deal is you pay your back taxes, you pay your penalty, and you don't go to prison."

Season 4, Episode 10: Salud
"Ted, are you blackmailing me?"

Season 4, Episode 11: Crawl Space
"I gave it to Ted. Walt, I had to. For us, for the family."

Season 4, Episode 11: Crawl Space