Characters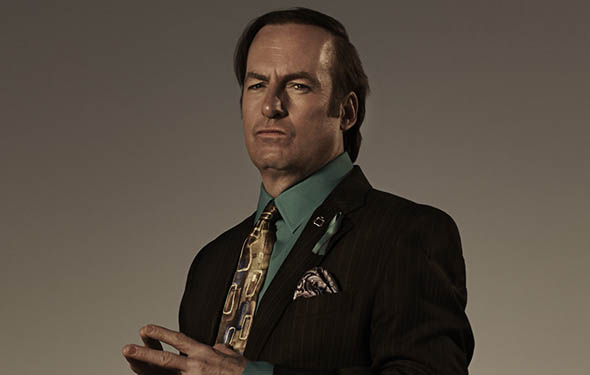 Saul Goodman is Walt and Jesse's attorney. "You don't want a criminal lawyer... you want a criminal lawyer," Jesse explains to Walt early in their partnership. Such is Saul, who operates out of a strip mall office and runs late night TV ads advising potential clients they'd "Better Call Saul" when in trouble with the law.
The kind of guy who "knows a guy who knows a guy," Saul finds Walt and Jesse a drug distributor, arranges for Walt to launder drug money through Walter, Jr.'s website (SaveWalterWhite.com), and dispatches a Cleaner to Jesse's apartment to attend to Jesse and dispose of any incriminating evidence after his girlfriend Jane overdoses.
Ever the opportunist, Saul works for both Walt and Jesse after the two part ways. He and Walt scuffle after Walt discovers that Saul had the White house bugged, and for awhile Saul only assists Jesse. He abandons Jesse when Walt decides to strike a deal with Gus. "That's the way of the world, kid," Saul tells Jesse. "Go with the winner."
Much to Saul's chagrin, Walt's wife Skyler soon becomes more involved in Walt's business and spars with Saul over strategy. Later, he helps her funnel money to Ted Beneke to pay off an IRS debt, sending his bodyguard Huell and his operative Kuby to Ted's house to ensure the money goes where it's intended. Fearing for his life, Ted attempts to flee -- and gravely injures himself in the process.
When Gus threatens the White family, Saul offers to put Walt in touch with a "disappearer," who will set the White family up with new identities… for half a million dollars. Saul also agrees to tip off the DEA about a plot to kill Hank in an effort to shore up Hank's safety.
Meanwhile, Saul convinces Jesse to visit his office. As Huell frisks Jesse, Saul hands over a duffel of cash. During the frisk, Saul has Huell lift Jesse's ricin cigarette for Walt. When Saul finds out he unwittingly participated in Brock's poisoning, he tries to end his partnership with Walt. "We're done when I say we're done," Walt threatens.
After Gus' death, Saul helps Walt, Mike, and Jesse find a venue for a new meth lab, hooking them up with Vamonos Pest so that Walt and Jesse can cook inside the tented houses that Vamonos fumigates. Saul becomes exasperated when he learns that Mike has been funneling money to his granddaughter using another lawyer, who is subsequently arrested.
"Always consult me before you go to outside council!" he lectures Walt and Jesse.
Saul Goodman Quotes
[To Badger] "What's the kick? Why don't you do it at home like the rest of us? Big flat screen TV, 50 channels of pay-per-view. In a Starbucks? — That's nice."

Season 2, Episode 8: "Better Call Saul"
"I'm gonna get you a second phone call, OK? You're gonna call your mommy or your daddy or your parish priest or your boys cout leader, and they're gonna deliver me a check for $4650.00. I'm gonna write that down on the back of my business card. Four, Six, Five, Zero, OK? And I need that in a cashiers check or a money order, doesn't matter. Actually, ah, I want it in a money order and ah, make it out to "Ice Station Zebra Associates." That's my loan out. It's totally legit… its done just for tax purposes. After that we can discuss Visa or Mastercard, but definitely not American Express, so don't even ask, alright? Any questions?"

Season 2, Episode 8: "Better Call Saul"
"There are laws detective, have your kindergarten teacher read them to you. Right, go grab your juice box and have a nap!"

Season 2, Episode 8: "Better Call Saul"
"Should I call the FBI and tell them I found DB Cooper?"

Season 2, Episode 8: "Better Call Saul"
"Conscience gets expensive, doesn't it?"

Season 2, Episode 8: "Better Call Saul"
Walt: "What are you offering me?"
Saul: "What did Tom Hagen do for Vito Corleone?"
Walt: "I'm no Vito Corleone."
Saul: "No shit! Right now you're Fredo!"

Season 2, Episode 8: "Better Call Saul"
"Congratulations, you've just left your family a second-hand Subaru."

Season 2, Episode 9: "4 Days Out"
"Look, let's start with some tough love, all right? Ready for this? Here goes: You two suck at peddling meth. Period."

Season 2, Episode 11: "Mandala"
"As to your dead guy, occupational hazard. Drug dealer getting shot? I'm gonna go out on a limb here and say it's been known to happen."

Season 2, Episode 11: "Mandala"
"Let's just say I know a guy… who knows a guy… who knows another guy."

Season 2, Episode 11: "Mandala"
"10! 20! 30 bucks a pop, all paid in full, nice and neat, untraceable from the good-hearted people of the world to Mr. Walter H. White, Cancer Saint. I'm getting a warm and fuzzy feeling just thinking about it."

Season 2, Episode 12: "Phoenix"
"Just promise me you're not going to hang yourself in the closet, OK?"

Season 3, Episode 2: "Caballo Sin Nombre"
"Way of the world, kid: Go with the winner."

Season 3, Episode 5: "Mas"
"Did you not plan for this contingency? I mean the Starship Enterprise had a self-destruct button. I'm just saying."

Season 3, Episode 6: "Sunset"
"Yo Adrian, Rocky called… he wants his face back."

Season 3, Episode 7: "One Minute"
"Congratulations. You are now officially the cute one of the group. Paul meet Ringo. Ringo, Paul."

Season 3, Episode 7: "One Minute"
"I'm just gonna call you Skyler if that's ok. It's a lovely name, reminds me of a… big beautiful sky. Walt never told me how lucky he was, prior to recent unfortunate events. Clearly his taste in women is the same as his taste in lawyers: "Only the very best, with just the right amount of dirty."

Season 3, Episode 11: "Abiquiu"
"If you're committed enough, you can make any story work. I once told a woman I was Kevin Costner, and it worked because I believed it."

Season 3, Episode 11: "Abiquiu"
"My very own P.I. is threatening to break my legs. That's like Thomas Magnum threatening that little prissy guy with the mustache!"

Season 3, Episode 13: "Full Measure"
"You and I survive this? I am seriously rethinking my pricing. That goes double for you, Hip-Hop!"

Season 3, Episode 13: "Full Measure"
"Walter is fine. I guarantee that, hundred percent."

Season 4, Episode 1: Box Cutter
"You got a passport, right?"

Season 4, Episode 1: Box Cutter
"Have you recently lost a loved one in an aviation disaster?"

Season 4, Episode 2: Thirty-eight Snub
"Walt told me that you took a run at this Bogdan character, and he wrestled you into submission with his eyebrows."

Season 4, Episode 3: Open House
"Goes after him how? On his Rascal Scooter? Ahem. Perhaps sounded insensitive."

Season 4, Episode 4: Bullet Points
"You do have a little Sh– Creek action happening."

Season 4, Episode 4: Bullet Points
"For a substantial fee, and I do mean substantial, you and your loved ones can vanish. Untraceable."

Season 4, Episode 4: Bullet Points
"There is total contrition here. There's mountains of contrition."

Season 4, Episode 7: Problem Dog
"I've been working magic here. I could at least get an 'attaboy.'"

Season 4, Episode 7: Problem Dog
"Let's ditch the thesaurus, all right? You talkin' about a hit man? . . . Pzzzt. Wrong answer! That's what the kids call epic fail."

Season 4, Episode 7: Problem Dog
"I loved school when I was your age. Seesaws, story time, chasing girls with sticks."

Season 4, Episode 8: Hermanos
"I don't mind dropping checks off every week like Ed McMahon, but if you really want to know how they're doin', why don't you go see for yourself?"

Season 4, Episode 8: Hermanos
"Celebrities get their cars washed just like everybody else."

Season 4, Episode 10: Salud
"'Great Aunt Birgit'? What? But you called it. I guess people see those zeroes dancing before their eyes — it's kind of like highway hypnosis."

Season 4, Episode 10: Salud
"It's gonna be fine. I've got my A-team on it."

Season 4, Episode 11: Crawl Space
"You're a high-risk client. You're gonna need the deluxe service. It's gonna cost you."

Season 4, Episode 11: Crawl Space
"You ever hear the expression a fart in the wind? Well, inside of an hour that's going to be me, okay? I'm hittin' the road. I'm gone. I'm out of here."

Season 4, Episode 12: End Times
"Do me a favor. Would you put in a good word for me with Fring? Just for old times' sake. I can't afford to butter the wrong bread here."

Season 4, Episode 12: End Times
"You two. All I can say is if I ever get anal polyps, I'll know what to name them."

Season 4, Episode 13: Face Off