Characters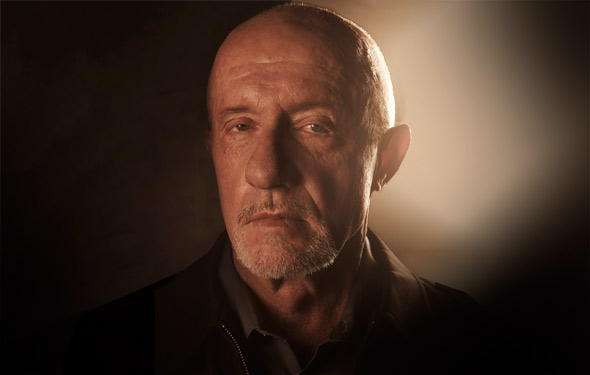 Mike Ehrmantraut is Saul Goodman's fixer, his cleaner, his go-to guy for sticky situations. Jesse first meets Mike after the death of his girlfriend, Jane. Mike removes evidence and prepares the shell-shocked Jesse for his interview with the police. Mike sums up his M.O. as he prepares to leave Jesse's duplex: "Do I need to state the obvious?" he says. "I was not here."
Although he works for Saul, Mike's chief loyalty is to another employer: Gus Fring. On behalf of Gus, Mike single-handedly outmaneuvers four Cartel gunmen sent to Albuquerque.
When Walt angers Gus by killing two of his dealers, the responsibility for murdering Walt also falls to Mike, who makes a rare slip-up allowing Walt to call Jesse, ostensibly to get a line on his whereabouts. Walt uses the opportunity to instruct Jesse to kill Gale, Walt's former lab assistant and the only other person who could cook Walt's meth formula for Gus.
After watching Gus kill Victor in cold blood, Walt urges Mike to help him kill Gus, lest they receive the same treatment someday. Mike responds by punching Walt in the face, and later participates in Gus' ploy to drive a wedge between the partners by taking Jesse along with him to various money pick-ups.
Mike accompanies Gus and Jesse on a high-stakes trip to Mexico that ends in the death of Cartel boss Don Eladio and his capos. Mike is shot as the three flee the hacienda. Mike is too injured to return to Albuquerque with Gus and Jesse, so he stays in Mexico to recover.
When Mike learns that Walt has killed Gus, he hastens to New Mexico for revenge. Instead, he ends up helping Walt and Jesse destroy surveillance evidence that could incriminate them all. He initially turns down their offer to partner up in a new meth operation, but changes his mind when he learns that the DEA has confiscated money he had put away to keep the rest of Gus' men silent and to provide for his granddaughter.
Mike constantly finds himself at odds with Walt as the business progresses. "You are a time bomb," he tells Walt. "I have no intention of being around for the boom." Walt hates Mike's insistence that the partners pay legacy costs to Gus' imprisoned former employees in order to keep them silent.
Meanwhile, the DEA closely surveils Mike to tie up loose ends in the Gus Fring case. Between the DEA surveillance and the death of an innocent boy during a methylamine heist, Mike decides to quit the meth business for good.
He arranges to sell his and Jesse's shares of the methylamine to Declan, a rival dealer in Phoenix. When Declan realizes that this deal won't take the blue meth off the streets, he refuses to go through with it until Walt sells his share, too. Walt rejects the buyout, but convinces Declan to take over for Mike as his distribution network.
When Walt learns that the DEA is on the verge of arresting Mike, he helps Mike avoid capture. However, when Mike refuses to hand over the names of Gus' imprisoned men, Walt shoots Mike. As Mike bleeds out, Walt tries to justify his actions.
"Shut the f---- up," Mike interrupts, "and let me die in peace."
Mike Quotes
"Saul Goodman sent me."

Season 2, Episode 13: "ABQ"
"I woke up, I found her, that's all I know."

Season 2, Episode 13: "ABQ"
"Do I need to state the obvious? I wasn't here."

Season 2, Episode 13: "ABQ"
Walt: "Are [the police] here now?"
Mike: "I don't see any sign, but that's the point. Police could be the least of it: You could just get mugged or shot."

Season 2, Episode 13: "ABQ"
"You know Walter, sometimes it doesn't hurt to have someone watching your back."

Season 3, Episode 4: "Green Light"
"Gus: He will live for the foreseeable future, yes?
Mike: Mm, foreseeable. Couple of years at least, barring acts of God or men with axes."

Season 3, Episode 4: "Green Light"
"The moral of the story is, I chose a half measure, when I should have gone all the way. I'll never make that mistake again. No more half measures, Walter."

Season 3, Episode 12: "Half Measures"
"Walt: I want assurances.
Mike: I assure you I can kill you from way over here."

Season 3, Episode 13: "Full Measure"
"Walt: You said no half measures.
Mike: Yeah, it's funny how words can be so open to interpretation."

Season 3, Episode 13: "Full Measure"
"Saul: Where's the trust?
Mike: I trust the hole in the desert I'll leave you in."

Season 3, Episode 13: "Full Measure"
"Saul, don't make me beat you until your legs don't work."

Season 3, Episode 13: "Full Measure"
"Walt: Mike, you don't have to do this.
Mike: Yeah, unfortunately we do. Downstairs, Walter."

Season 3, Episode 13: "Full Measure"
"Give it a second weigh if you would, please. New policy."

Season 4, Episode 2: Thirty-Eight Snub
"Go home, Walter."

Season 4, Episode 2: Thirty-Eight Snub
"Do yourself a favor and learn to take yes for an answer."

Season 4, Episode 2: Thirty-Eight Snub
"You want to know what's next for Miss Pissed-in-His-Pants?"

Season 4, Episode 4: Bullet Points
"You're on thin ice, you little sh–head."

Season 4, Episode 4: Bullet Points
"You are not the guy. You're not capable of being the guy. I had a guy, but now I don't. You are not the guy."

Season 4, Episode 5: Shotgun
"Sit here, shut up, and stay in the car."

Season 4, Episode 5: Shotgun
"Just like you wanted. The kid's a hero."

Season 4, Episode 5: Shotgun
"Let me hire ten, fifteen more good operators, and we hit 'em back, hit 'em hard, hit 'em where they live."

Season 4, Episode 6: Cornered
"The order of the day is eyes open, mouth shut."

Season 4, Episode 7: Problem Dog
"If I had to put it in a word, I'd guess 'loyalty.' Yeah. Only maybe you got it for the wrong guy."

Season 4, Episode 7: Problem Dog
"Guy's gone totally maverick. He's Miss Daisy with binoculars."

Season 4, Episode 8: Hermanos
"Dealing with both Schrader and the Mexicans at the same time? If he happens to be watching when they make a move, it could be the perfect storm."

Season 4, Episode 8: Hermanos
"The Cartel needs Gus. His distribution network. They're not looking to kill him."

Season 4, Episode 9: Bug
"I promise you this: Either we're all going home, or none of us are."

Season 4, Episode 10: Salud
"Make yourself useful. Find a gun."

Season 4, Episode 10: Salud