Characters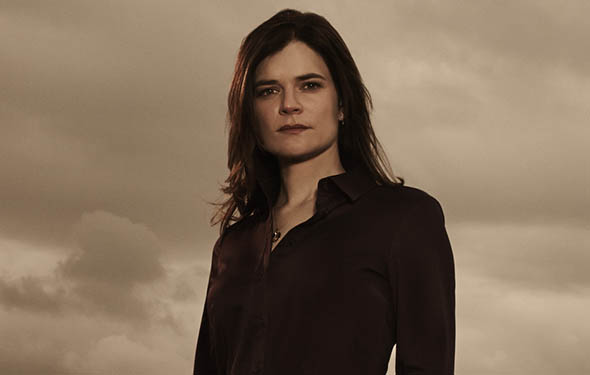 Marie Schrader is Skyler White's sister and the wife of DEA agent Hank Schrader. Marie is close with her sister, though her tendency to pry sometimes irritates Skyler. The sisters briefly fall out when Marie gives Skyler a stolen tiara for her unborn daughter. Marie, who's receiving treatment for her kleptomania, eventually apologizes. She and Skyler reconcile.
Marie becomes concerned about Hank when he begins having PTSD attacks after being ambushed by the Mexican drug cartel in El Paso. "It's like something's eating him away from inside," Marie confides to Skyler.
Though Hank refuses to open up about his feelings, Marie remains her husband's most tenacious advocate. When he brutally assaults Jesse, she urges him to lie about the assault. "It's some low-life degenerate versus you," she reasons. Instead, Hank admits his guilt, accepts a suspension and surrenders his sidearm.
After Mexican cartel killers attack Hank, Marie rips into the DEA for leaving Hank defenseless. Marie is equally blunt when insurance limitations reduce Hank's physical therapy options and thus his chances of walking again. "He is a hero, and he is not going to be in a wheelchair at forty-three," she declares.
Skyler stuns Marie with an offer to pay for top-notch care with money that Skyler claims Walt won in illegal blackjack games. Marie accepts the offer, but doesn't tell Hank.
Frustrated at the slow pace of his recovery, Hank constantly snipes at Marie. She reacts by returning to her kleptomaniac ways, visiting open houses and lifting various objects from unsuspecting homeowners.
After a friend on the police force helps Marie avoid arrest when she's caught thieving, Hank becomes involved with the Gale Boetticher murder. Marie is at first delighted that work is again motivating Hank, but her old fears return when the DEA receives a tip about another cartel hit on him.
Marie grows increasingly concerned for Skyler as her sister exhibits signs of depression. She demands an explanation from Walt after Skyler breaks down in hysterics at work. Walt tells her that Skyler's behavior stems from guilt over an affair with her boss, Ted Beneke.
When Skyler fakes a mental breakdown by submerging herself in the Whites' backyard pool, Marie agrees to take in Junior and Holly so that Skyler and Walt can work on their relationship.
Read Marie's Blog »
Follow Marie on Twitter »
Marie Schrader Quotes
"These shoes make me look like I should be changing bedpans, like I should be squeaking around bringing soup to some disgusting old person — then take the bus home to my 16 cats."

Season 1, Episode 3: "…And the Bag's in the River"
"I ask you for a little creativity in the bedroom. A nice dinner at the Olive Garden. And what? I'm asking for the moon, apparently."

Original Minisode: "Good Cop / Bad Cop"
"Maybe Walt's addicted to the pot and he owes his drug dealer a lot of money."

Season 2, Episode 2: "Grilled"
"Chemotherapy and marijuana go together like apple pie and Chevrolet."

Season 2, Episode 2: "Grilled"
"Don't get me wrong. I think it's just great that he's, y'know, back and he's feeling better. I just, I mean, he… naked. He was naked naked in a supermarket. It wasn't Whole Foods, was it?"

Season 2, Episode 3: "Bit By a Dead Bee"
"Let me get this straight. You call in sick the day after receiving a long awaited, career boosting promotion so you can play Oktoberfest in your man cave."

Season 2, Episode 5: "Breakage"
"Don't tell me to relax, ya know I hate that! Dave said I should express that."

Season 2, Episode 5: "Breakage"
"Facing death, it changes a person."

Season 3, Episode 5: "Mas"
"We're all family."

Season 3, Episode 8: "I See You"
"Marie: Pain is weakness leaving your body.
Hank: Pain is my foot in your ass, Marie.
Marie: Hey, if you could get your leg up that high, I say go for it."

Season 3, Episode 11: "Abiquiu"
"Marie: I'll tell you what. If I can get the groundhog to see his shadow…
Hank: It's not going to happen. I'm sorry.
Marie: I'm betting it will, and if he does, you check out of here."

Season 3, Episode 12: "Half Measures"
"A big howdy-do to Mr. I'm Not Here."

Season 4, Episode 1: Box Cutter
"They're rocks."

Season 4, Episode 2: Thirty-Eight Snub
"No, divorced, very recent… A little boy. He turned four in May… I work a lot with clay, so I need access to running water."

Season 4, Episode 3: Open House
"NASA was like a second family to us. But, you know, it was time for a new adventure. So between his pension and the income I bring in from hand modeling, we're, you know, comfortable."

Season 4, Episode 3: Open House
"My husband is an illustrator, so we traveled a lot. Paris, Italy, Denmark. It was before the kids were in school, so it was easy to pick up and go. That was before my youngest, Lucy, was diagnosed with endocarditis."

Season 4, Episode 3: Open House
"You better just back off. My husband is a DEA agent."

Season 4, Episode 3: Open House
"You know what, Fatty, you are just so lucky that I am late for an appointment."

Season 4, Episode 3: Open House
"You're giving positive reinforcement to behavior that Walt is working very, very hard to change."

Season 4, Episode 5: Shotgun
"Does anyone actually want their car to smell like the bottom of a sixth-grader's desk?"

Season 4, Episode 7: Problem Dog
"It's not too late to have a grand opening… Let people know they're not going to have to face the eyebrows of doom when they come in."

Season 4, Episode 7: Problem Dog
"You're really taking to this whole be-your-own-boss thing. Actually, I'm thinking about making a move up to management."

Season 4, Episode 8: Hermanos
"The other day he had a big pow-wow with all the DEA muckety-mucks."

Season 4, Episode 8: Hermanos
"I knew it. 'Mineral show' is just some kind of guy code for 'strip club'."

Season 4, Episode 9: Bug
"I'll tell you one thing. Your Hardy Boys routine is over. No more asking him to drive you on stakeouts."

Season 4, Episode 11: Crawl Space
"It's happening again. The DEA called. They got some tip from an informant that the cartel, they want to kill Hank."

Season 4, Episode 11: Crawl Space
"I hope you sell plenty of air fresheners. I hope you just have a banner day over there. Okay, Walt. Don't worry about a thing here."

Season 4, Episode 13: Face Off
"It is a ridiculous idea, and there is no way you're going to do it. End of story."

Season 4, Episode 13: Face Off