Characters
Hank Schrader
Played by Dean Norris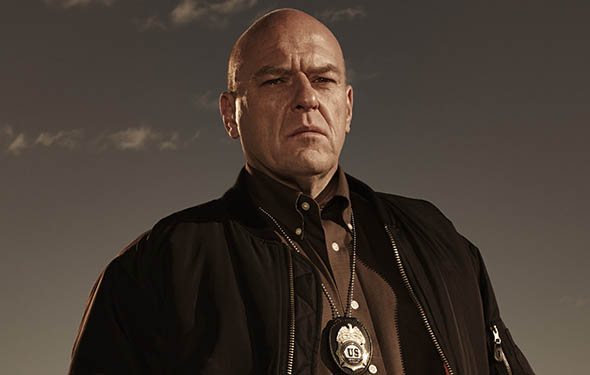 Hank Schrader is Walt's DEA agent brother-in-law. Over the years, Hank has investigated the source of the high-quality blue meth of "Heisenberg," Walt's underworld alter ego. Hank's heroics killing Tuco Salamanca, Walt's distributor, earn him a promotion and a part-time assignment at the DEA's El Paso office, but also leave him enduring debilitating anxiety attacks. These attacks increase in intensity after Cartel members ambush Hank and other agents on the Mexican border.
After Hank's pursuit of Heisenberg leads him to brutally attack Jesse, ASAC Merkert suspends Hank and confiscates his weapon. Soon after, Hank is defenseless when two Cartel hitmen come after him in a parking lot. Hank survives the ambush, but his legs are partially paralyzed.
During his convalescence, Hank assists a police friend with the investigation of Gale Boetticher's murder. Hank quickly connects the dots between Gale and Gus Fring, but the DEA is skeptical. Because Hank can't drive, he asks Walt to chauffeur him to Gus' restaurant, factory farm, and industrial laundry. To prevent Hank from getting too close to Gus' operation, Walt deliberately causes a car accident -- which again hospitalizes Hank.
After Gus makes a threat against Hank, Walt has his lawyer Saul Goodman tip off the DEA. Hank, Marie, and Walt's family are placed in protective custody at the Schrader home. A day later, unaware of Walt's involvement, Hank watches a television news report about the drug-related bomb blast that killed Gus Fring.
ASAC Merkert is fired for mishandling the Gus Fring investigation, allowing Hank to be promoted. Against his new boss' wishes, Hank continues to investigate Gus' meth empire. Hank tries to extract information from Gus' nine imprisoned men, but Walt has them killed before they can talk. Mike, too, escapes Hank's grasp when Walt learns that the DEA is closing in and calls to warn him. With no further leads to follow in the Heisenberg case, Hank is devastated.
A month later, Hank and Marie visit the White house for a barbeque. While using the bathroom, Hank finds a copy of Leaves of Grass that Gale Boetticher had given to Walt. As he reads an inscription dedicated to "W.W.," Hank remembers the initials inscribed in Boetticher's lab notebook. Could Walt be the infamous Heisenberg?
Read Hank's Blog »
Follow Hank on Twitter »
Hank Schrader Quotes
"You ever smoke anything else, Wendy? Sausages don't count."

Season 1, Episode 3: "…And the Bag's in the River"
Walt: "Hank, you want another beer?"
Hank: "Does the Pope shit in his hat?"

Season 1, Episode 3: "…And the Bag's in the River"
"I'm thinking 'Operation Breath Mint' every time you and me are on a stakeout together, alright? Breath could knock a buzzard off a shitwagon. Alright! Operation… TBD. Thanks for nothin', Gom."

Season 1, Episode 4: "Cancer Man"
"So be on notice: We got new players in town. Now we don't know who they are or where they came from, but they possess an extremely high skill set. Me personally, I think Albuquerque might just have a new kingpin."

Season 1, Episode 4: "Cancer Man"
Walter, Jr.: "Hey, I want a beer."
Hank: "Yeah? I want Shania Twain to give me a tuggy. Guess what? That ain't happening either."

Season 1, Episode 4: "Cancer Man"
"Chick's got an ass like an onion… makes me want to cry."

Season 1, Episode 6: "Crazy Handful of Nothin'"
"These guys know their trade. Wait, I take it back. What, they didn't think about stealing a hand truck? Hey, try rolling it morons! It's a barrel! It ROLLS!"

Season 2, Episode 1: "Seven Thirty-Seven"
"Get a big old raging hard-on at the idea of catching this piece of shit! Oh – my apologies to the HR Department. 'Grow tumescent with anticipation.'"

Season 2, Episode 2: "Grilled"
Hank: "So who's your chief, little Injun?"
Jesse:"What? What does that even mean?"
Hank: "It means I think you're story's bullshit. I think you know who Tuco Salamanco was. I think your car was there 'cause you were there. Tuco had a bullet in him when I got there, and I think you know somethin' about that too."

Season 2, Episode 3: "Bit by a Dead Bee"
Tortuga: "Hey white boy, my name's Tortuga. You know what that means?"
Hank: "If I have to guess, I'd say that's spanish for asshole."

Season 2, Episode 3: "Negro Y Azul"
Saul: "Anything you care to share with me?"
Hank: "Sure. Your commercials? They suck ass. I've seen better acting in an epileptic whore house."

Season 2, Episode 8: "Better Call Saul"
"Gomie, go beat your pinata."

Season 3, Episode 2: "Caballo Sin Nombre"
"They got the right guy for the job. 'Specially since the bean-speak comes natural and all."

Season 3, Episode 5: "Mas"
"I swear to God, Marie, I think the universe is trying to tell me something. And I'm finally ready to listen."

Season 3, Episode 7: "One Minute"
"I'm not the man I thought I was."

Season 3, Episode 7: "One Minute"
"I'm not gonna bet on whether I'll get a boner."

Season 3, Episode 12: "Half Measures"
"I walked sixteen feet in twenty minutes, which is up from like fifteen-and-a-half yesterday. And I had maybe this much less sh– in my pants. So, yeah, Marie, if you and him and everybody else in America secretly took a vote and changed the meaning of the entire English language, yeah, I guess I broke new ground."

Season 4, Episode 1: Box Cutter
"This is not a rock. This is a mineral."

Season 4, Episode 2: Thirty-Eight Snub
"Marie, get out."

Season 4, Episode 2: Thirty-Eight Snub
"I said Cheetos. Ch-ch-ch sound. Virtually impossible to confuse Cheetos with Fritos."

Season 4, Episode 3: Open House
"Are you seriously doing this to me again?"

Season 4, Episode 3: Open House
"I'm lying here like third base, living from bowel movement to bowel movement. I'm not even useful to myself."

Season 4, Episode 3: Open House
"It says, 'TO W.W., MY STAR, MY PERFECT SILENCE.' W.W., I mean, who do you figure that is? Woodrow Wilson? Willy Wonka? Walter White?"

Season 4, Episode 4: Bullet Points
"You frickin' brainiac. I must have missed that day in school or something… I'll bet you're right. Walt Whitman."

Season 4, Episode 4: Bullet Points
"It's like Scarface had sex with Mr. Rogers or something."

Season 4, Episode 5: Shotgun
"He was a meth chef. I mean, we're talkin' five stars. Candles and white tablecloth. I can't believe this word's even coming out of my mouth, but he was a genius, plain and simple."

Season 4, Episode 5: Shotgun
"Since when do vegans eat fried chicken?"

Season 4, Episode 5: Shotgun
"What I think we got here is former Heisenberg's cook, and maybe a line on Heisenberg himself."

Season 4, Episode 7: Problem Dog
"What do we know about Gustavo Fring? This whole friend of law-enforcement thing. Could be a case of 'keep your friends close but your enemies closer.'"

Season 4, Episode 7: Problem Dog
"I can't seem to wrap my mind about this one little thing. And that is: What are Gustavo Fring's fingerprints doing at Gale Boetticher's apartment?"

Season 4, Episode 7: Problem Dog
"Is Gustavo Fring your real name?"

Season 4, Episode 8: Hermanos
"Before '86, this guy's a ghost."

Season 4, Episode 8: Hermanos
"There's no rock show, okay? I just said that so Marie wouldn't freak."

Season 4, Episode 8: Hermanos
"We're not here for the chicken."

Season 4, Episode 8: Hermanos
"As you're walking past the car, you look down, 'Oh, hey, darn, my shoe's untied.' Okay? Now, when you bend down to tie your shoe, you stick this up into the wheel well."

Season 4, Episode 8: Hermanos
"Chicken-slinging son of a bitch. A guy this clean's got to be dirty."

Season 4, Episode 9: Bug
"You lose your hair, you go on all of a couple of stake-outs? All of a sudden, what, you're Kojak?"

Season 4, Episode 11: Crawl Space
"I broke down. I ordered me a gimp mobile."

Season 4, Episode 11: Crawl Space
"Timing seem a bit odd to you? I start looking into Fring, and all of a sudden I'm on lockdown for my own protection."

Season 4, Episode 12: End Times
"What happened to good old-fashioned knock-and-talk. Oh, that's right. I forgot. You were never very good at those, were you?"

Season 4, Episode 12: End Times