Characters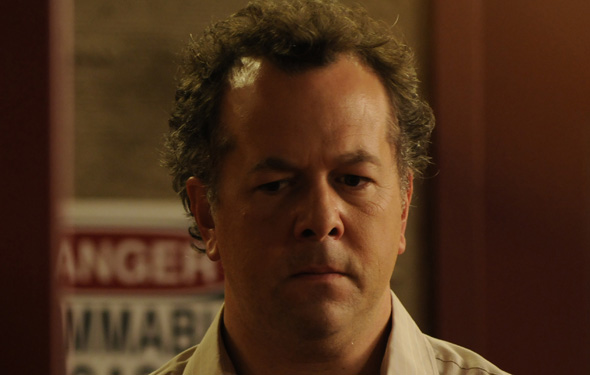 Gale Boetticher is Walt's Gus-appointed superlab assistant. A specialist in X-ray crystallography, the Libertarian chemist has an open-minded attitude regarding meth: "Consenting adults want what they want," he tells Walt. "At least with me they're getting exactly what they pay for."
Gus Fring hires Walt after Gale, who sets up the superlab for Gus, praises a sample of Walt's blue meth as the purest he's ever seen. Early in their collaboration, Gale impresses Walt with a recitation of Walt Whitman's "When I Heard the Learn'd Astronomer," about the exhilaration of experiencing scientific wonders first-hand. "Yes, I am a nerd," Gale laughs.
What Gale jokes "might be beginning of a beautiful friendship" between him and Walt sours abruptly. Walt, angling to install Jesse as his lab assistant, accuses Gale of making an error and fires him. Before Gale departs, an unkempt Jesse saunters in and declares the superlab "the bomb." "This makes no sense," says Gale.
Gus reinstates Gale after Walt kills two of the businessman's dealers to protect Jesse. Gus visits Gale one night to reveal Walt's cancer diagnosis. Saying that he must "prepare for the worst-case scenario," Gus orders Gale to master the cooking process as quickly as possible.
To retain leverage with Gus as the sole meth cook, Walt plots Gale's murder. Jesse shows up at Gale's apartment and brandishes a gun. "You don't have to do this," Gale pleads. Jesse, his eyes tearing, pulls the trigger.
After Gale's death, Hank Schrader reviews evidence in the case, including Gale's "Lab Notes" journal (which contains Walt's meth formula) and a napkin from Gus Fring's restaurant that prompts Hank to ponder why a vegan would eat fried chicken. Before long, Hank develops a theory that's tantalizingly close to the truth.
Gale Boetticher Quotes
"Consenting adults want what they want. At least with me they're getting exactly what they pay for."

Season 3, Episode 6: "Sunset"
"Yes, I am a nerd."

Season 3, Episode 6: "Sunset"
"This makes no sense."

Season 3, Episode 8: "I See You"
"Please don't do this. You don't have to do this."

Season 3, Episode 13: "Full Measure"
"If that is our competition, we have our work cut out for us."

Season 4, Episode 1: Box Cutter
"I can guarantee you a purity of ninety-six percent. I'm proud of that figure… However, that other product is ninety-nine. Maybe even a touch beyond that."

Season 4, Episode 1: Box Cutter
"That last three percent, it may not sound like a lot, but it is."

Season 4, Episode 1: Box Cutter
"Standing there alone, the ship is waiting. All systems are go… The countdown starts."

Season 4, Episode 4: Bullet Points